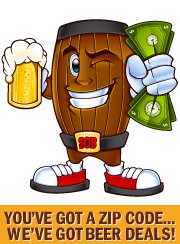 Houston, Texas (PRWEB) April 23, 2012
A new report published by SaveOnBrew.com identifies the states with the best and worst beer tax laws to help illuminate national beer price trends and discrepancies. According to the group, the best states to find cheap beer taxes (on off-premise purchase) include: Wyoming (2 cents), Wisconsin (6 cents), Missouri (6 cents), Oregon (8 cents), Colorado (8 cents), Pennsylvania (8 cents), and Kentucky (8 cents). The excise tax is based on a gallon of suds.
By contrast, the highest beer taxes can be found in: Alaska ($1.07), Alabama ($1.05), Georgia ($1.01) and South Carolina (77 cents). People searching for great beer deals in these states may, in many cases, be better off trucking just over the state border and stocking up for the next party! Most states reasonably fall somewhere in the middle of these two polarities, with states in the Rust Belt and Mid-West in the teens, and Southern states in the twenties, thirties and forties.
"It's no surprise that many of the same places with the highest beer taxes tend to be the places with the lowest beer consumption," explains Mark Davidson, co-founder and Chief Operating Officer of SaveOnBrew.com. He adds, "Personally, SaveOnBrew feels that anything over a dollar is just egregious, but that's state's rights for you!"
While Davidson and crew may not be able to control the price of beer tax, they can certainly point beer drinkers in the right direction for finding the best advertised beer prices.
The newly launched SaveOnBrew.com has quickly become the nation's best source of information on where one can locate all of the advertised beer deals in his or her hometown. Dozens of beer sales and prices are published for each zip code, with new stores and beers being added by the day.
"We just launched the mobile version of our web site as well, so you can scour for beer sales and deals while you're out and about on your smart phone," Davidson explains. "If a beer deal is advertised electronically, rest assured we either have it or are about to add it. All our prices are verified – not crowd-sourced – so we provide you with the most up-to-date, legitimate information out there. On any given day, our team is tracking between 200,000 and 300,000 advertised deals in our database from 50,000 vendors... and counting."
More information about cheap beer and beer taxes can be found at the Cheap Beer Blog (http://www.SaveOnBrew.com/blog). In case one wonders which states are the thirstiest for beer, they are: Nevada, Montana, North Dakota and New Hampshire. (Live free or die!) Beer lovers are advised to stay tuned to SaveOnBrew for more of the beer price news and views they crave.
About SaveOnBrew.Com: Founded in 2010 to help thirsty beer drinkers across the United States find the lowest advertised prices for one of the world's most popular beverages.