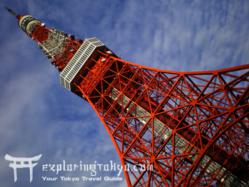 The disaster has not stopped people from coming all over the world to enjoy this magnificent cultural experience.
(PRWEB) April 16, 2012
exploringtokyo.com (a contemporary online travel guide for travelers visiting Tokyo) takes a deeper look at this issue.
Just twelve months after the devastating 8.9 magnitude Tohoku Earthquake and Tsunami, Japan has made a strong comeback in the tourism department. With statistics improving markedly each month since June of 2011, it's only a matter of time until stats are back in black, as analysts at The World Travel and Tourism Council are predicting a full recovery by the end of the first quarter of 2012. Statistics from March are not yet available however February 2012 shows 548,200 visitors, which was down 19.3% over last year.
Tokyo Correspondent Kieram Litchfield for Exploring Tokyo, weighs in:
"Since June 2011 it's been a steady increase, with the exception of February 2012 which was down 19.3%. But let's look at this in context, if take a look back to February 2009, tourism was down 41.3%, with only 408,628 visitors that month, which is significantly worse than it is right now. So things are not as bad as they seem, in fact quite the contrary. With Japan's Cherry Blossom season in full swing we are seeing signs of a strong tourist season. Statistics won't be ready until the month closes however.
Hordes of residents and tourists gathering together and celebrating Hanami (Cherry Blossom Viewing) in the parks is a common sight all over Japan right now and really, it looks just like any other year. The disaster has not stopped people from coming all over the world to enjoy this magnificent experience," he continued.
But not everyone is flying in to see the sights, however; according to statistics from that same report from The World Travel and Tourism Council, Korean visitors were down 27% and have been in the -30 percentile for several months, Litchfield comments on this:
"Some people just aren't ready psychologically, they are afraid of radiation from Fukushima or of another earthquake. But in time they will come around. Japan is a beautiful country and has so much to offer to travelers. With cities like Tokyo, Osaka, Kyoto, Nara and Kobe you could spend months taking it all in."
Exploring Tokyo is dedicated to providing travelers and inquiring minds with all the information they need about visiting and living in Tokyo.