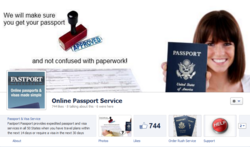 Awesome service! They take the headache (and the confusion) out of the process and hold your hand through the whole thing. I highly recommend them.
New York, NY (PRWEB) April 17, 2012
FastPort PassPort is a registered vital document courier service that assists United States citizens obtaining their passports in emergency situations. The Better Business Bureau has approved FastPort PassPort as an A+ rated BBB Accredited Business. FastPort PassPort's personalized expediting service has helped United States citizens nationwide obtain passports and visas since 2003 and has received its much deserved recognition by the BBB as of March 2012. FastPort PassPort is owned and operated by people you can trust will help you make your departure. Fastport Passport is also a member of ASTA.
FastPortPassPort.com is the prominent online passport expediting service for United States citizens for good reasons. With connectivity through Facebook.com/Passports, innovative webforms, and a mobile passport information application, the passport application process has been revolutionized by FastPort PassPort in all the right ways. All information regarding the passport application process is easy to access.
When entering or leaving the United States of America via air travel, the U.S. Government currently requires all U.S. citizens, including children, to provide a passport the passports must be valid for at least 6 months. A birth certificate and driver's license is not sufficient identification as proof of travel according the the U.S. Government. Just a factoid more US citizens are on Facebook then they have passports. So please always have a valid passport on hand for travel or emergency purposes. For more information on an expedited us passport please visit us at FastportPassport.com