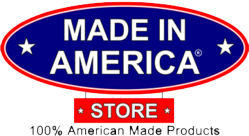 Elma, NY (PRWEB) April 19, 2012
On April 28th, the Made In America Store will be hosting their two year anniversary of being open and will be throwing an all-day event to celebrate. The event will take place at their location in Elma, New York, and will have vendor displays and demos, a charity bike run, live performances from two different bands and a kiosk from the American Cancer Society promoting the "Relay For Life."
"Relay For Life" helps raise money for the American Cancer Society by having a local relay for people willing to participate. The proceeds from the event go to the American Cancer Society and helps research and costs. People interested can donate ten dollars to any team and participate in the rally or donate any amount to support the event.
The "Relay For Life" in Western New York will take place on June 15th, 2012 and end June 16th at 1am. People interested in registering or donating can visit the Made In America Store Family's Team Page.
The Made In America Store is located at 900 Maple Road in Elma, New York and is committed to selling 100% American manufactured products. You can visit http://www.MadeInAmericaStore.com for more information or shop our catalog of over 290 vendors that are devoted to producing USA made products. All US military personnel both active duty and veterans receive a discount everyday. Consumers can also keep up to date news articles, events, photos and contests with Facebook, Twitter, Google+, Pinterest and Tumblr.