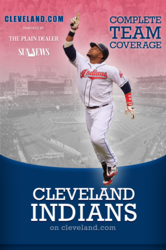 We are so proud and excited to offer this new app to all the dedicated Indians fans who want to have team news and information on-the-go.
Cleveland, OH (PRWEB) April 19, 2012
Cleveland.com has launched new Android and iPhone smartphone apps covering Cleveland Indians baseball powered by The Plain Dealer.
The Cleveland Indians on cleveland.com Android app, and the Cleveland Indians on cleveland.com iPhone app, feature news, commentary, videos and photos from the number one Cleveland sports and information website, powered by The Plain Dealer and Sun News.
"We are so proud and excited to offer this new app to all the dedicated Indians fans who want to have team news and information on-the-go," said Denise Polverine, Editor-in-Chief of cleveland.com. "And, the app will make it easy for fans to be part of the coverage with their photos, tweets and more!"
The apps are free for consumers to download and use. They provide scores, standings and schedules for the Cleveland Indians and other professional baseball teams. They include live Twitter updates from experts and fans, and a tool for fans to submit photos showing their Tribe spirit. They also deliver real-time weather updates for fans to consider when making game day plans.
The apps are available for download at no charge in the iTunes App Store and Android Market. They were developed and launched with Advance Digital and Verve Wireless to provide a unique and engaging smartphone app experience for the thousands of Indians fans who rely on cleveland.com and The Plain Dealer.
https://play.google.com/store/apps/details?id=com.cleveland.indians.android.
http://itunes.apple.com/us/app/cleveland.com-cleveland-indians/id513254776?ls=1&mt=8.
These apps were developed and published by Advance Digital Inc. and cleveland.com. They are not endorsed, licensed or sponsored by the Cleveland Indians of Major League Baseball Properties Inc.
About cleveland.com
Cleveland.com, an affiliate of Advance Digital, Inc., is the leading local website for news and information throughout Northeast Ohio featuring the latest Cleveland news, business, sports, travel, weather, traffic, shopping and entertainment information. In addition, cleveland.com has a comprehensive business listings directory, as well as local classified listings for jobs, homes, apartment rentals and autos. cleveland.com is powered by The Plain Dealer and Sun News.
About The Plain Dealer
The Plain Dealer is Ohio's largest newspaper and among the 20 largest newspapers in the country, reaching nearly 800,000 readers daily and nearly 1 million on Sundays. The Plain Dealer's media market, Greater Cleveland, is ranked No. 1 in the country for Sunday newspaper readership percentage (75 percent of total adults) and is No. 2 in daily newspaper readership percentage (62 percent of total adults), second only to the New York Times. The paper also has an electronic edition, and its content and related material can be found on cleveland.com. The Plain Dealer also operates Politifact Ohio, a website that analyzes political issues relevant to local interests.
About Advance Digital
Advance Digital, Inc., based in Jersey City, NJ, provides digital information and connection solutions for local consumers and businesses. The company operates 11 media properties across the U.S. that are the number one local news, information and community hubs in the markets they serve. The sites include cleveland.com, cleveland.com, gulflive.com, NJ.com, NOLA.com, OregonLive.com, SILive.com, syracuse.com, MassLive.com, PennLive.com, and lehighvalleylive.com.
About Verve Wireless
Verve monetizes local mobile media. Our solutions help local media companies monetize their mobile inventory and enable advertisers to reach a valuable, premium audience where they live, work and play. Over 1000 local publishers use the Verve platform to manage their mobile advertising businesses and help make their sales teams more effective. In addition, we bring incremental revenue to our publishers through our relationships with national advertisers, who value the Verve network's high quality local media companies, including the mobile outlets of recognized local media brands as well as newer digital-only local and hyper-local publishers. It is a brand-safe, editorially-driven, high-quality and transparent environment with market-leading targeting, creative and reporting capabilities. Only Verve has assembled such an extensive national footprint of high quality local media. Verve is located in San Diego, CA and Washington DC. For more information, visit http://www.vervewireless.com.