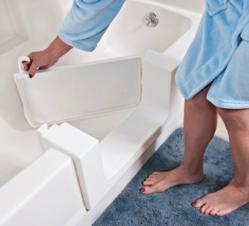 When it comes to making bathroom improvements for seniors and their caregivers, education is critical.
Cincinnati, OH (PRWEB) April 10, 2012
According to recent studies, nine out of 10 people age 50 and older want to remain in their homes for as long as they possibly can. In many cases, "aging in place" requires homeowners and caregivers to make home modifications to increase safety and accessibility. While a tax refund is one way to pay for the changes, Safeway Safety Step, a leading manufacturer of bathtub accessibility solutions, recommends that seniors and caregivers consider all of the financial options available to assist them. Below is a list of eight solutions that can help reduce or cover the costs for aging-in-place bathroom modifications.

Flexible Spending Accounts (FSA): FSAs are most often used to cover doctor visits and prescriptions, but according to the IRS, purchases made with FSAs can include medical expenses for special home equipment or home improvements as long as their main purpose is medical care for the homeowner, spouse or dependents. For more information, visit http://www.irs.gov/publications/p502/index.html.
Medicaid Waiver Programs: Usually administered at the state level, Medicaid Waiver Programs help seniors pay for home improvements such home mobility aids and modifications that enhance safety.
Area Agencies on Aging – Agencies across the country such as the Council on Aging of Southwest Ohio, Texas Department of Aging and Disability Services, St. Louis Area Agency on Aging offer free home improvements and safety modifications for seniors who qualify. Improvements may include bathroom grab bars, bathtub cutouts and wheel chair ramps.
Reasonable Accommodation Requests – For seniors or people with disabilities, a change may be necessary for them to have an "equal opportunity to use and enjoy a dwelling," including public and common use spaces. Reasonable Accommodation Requests are made directly to the housing provider or agency overseeing the housing.
VA Grants – SAH, HAS and HISA Grants are available to veterans and service members with specific service-connected disabilities and assist with necessary home modifications that help provide a barrier-free living environment, assist with mobility throughout the home or improve accessibility; among other benefits. For more information, visit http://www.payingforseniorcare.com/home-modifications/veterans-sah-sha-hisa-grants
Insurance – If a disability occurs because of an accident or injury, some automobile policies, workers compensation programs or other insurance programs will pay for home improvements needed as a result of the accident. Some seniors may also be able to pay for home modifications with their long-term care policies as an alternative to paying for an assisted living facility.
Charitable organizations – Organizations such as Rebuilding Together bring together volunteers and community support to provide home rehabilitation and modification services at no charge to low-income homeowners and families.
Private Pay – Education about aging-in-place solutions is important as improving safety and accessibility does not always require a major renovation. Solutions such as Safeway Step® and Safeway Tub Door®, which convert existing bathtubs into walk-in showers cost under $1,000 and can be installed in only a few hours.
"When it comes to making bathroom improvements for seniors and their caregivers, education is critical," said Chris Stafford, president of Safeway Safety Step. "They need to understand their options, both in terms of paying for the modifications and the variety of solutions that will make staying in their home safer and easier. Many people will likely be surprised at the number of solutions available to assist them."
About Safeway Safety Step, LLC
Based in Cincinnati, Ohio, Safeway Safety Step, LLC is the manufacturer and distributor of the Safeway line of bathtub accessibility products. The company's products include the patented Safeway Step® and the Safeway Tub Door®, which provide seniors, people with disabilities and mobility challenged individuals with affordable and safe solutions to improve bathtub accessibility and reduce the possibility of falls. Safeway Safety Step is supported by a growing network of professional installers who can transform an existing tub in as little as two hours. For additional information, please contact Safeway Safety Step, LLC at (877) 882‐7837 or visit http://www.safewaystep.com.
###