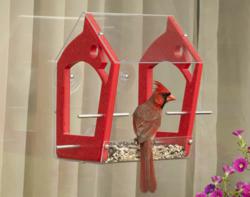 Love the beautiful colors and new styles of feeders that Duncraft has been coming up with!
-- Anna K, Duncraft Customer
Concord, NH (PRWEB) April 12, 2012
After 50 years of producing bird feeders and houses made of wood and acrylic plastics at its Concord NH manufacturing plant, Duncraft has made the move to Green. Duncraft is now producing over 60 new products in recycled plastic with more on the way—all made in the USA.
Recycled plastic "wood" is made of type 2 HDPE recyclables such as milk jugs, oil and detergent containers, plastic toys and plastic bags. It contains no wood fillers. After processing, the resulting "lumber" product contains over 90% post consumer waste, turning potential landfill material into a long lasting, durable product that doesn't splinter or crack, is completely resistant to insects and doesn't fade. Duncraft customers are particularly interested in products that are easy to clean. Duncraft's Eco-Strong line is non-porous and hygienic and won't harbor bacteria or parasites. Many of Duncraft's new bird feeders and houses are dishwasher safe, providing birds with the cleanest and healthiest environment possible.
With conservation and usability in mind, Duncraft is brightening up backyards all over the country with modern designs and the rich colors available in this Eco friendly material. They're crafting bright orange oriole feeders, deep blue bluebird feeders, and lemony colored goldfinch feeders—even bright red feeders to attract cardinals. Or customers can choose more muted tones in green and brown with a wood-grain finish. No matter what the customer's preference, Duncraft's new Eco feeders are made to last, look beautiful for years—and they're good for the environment.
Founded in 1952 and located in Concord, New Hampshire, Duncraft's objective is to bring the joy of backyard birding to wild bird lovers all across the country. Mike Dunn, owner and CEO is constantly inventing and searching for innovative ideas in bird feeding—giving bird lovers years of bird feeding enjoyment, success and satisfaction.
Duncraft Wild Bird Superstore
102 Fisherville Road
Concord, NH 03303