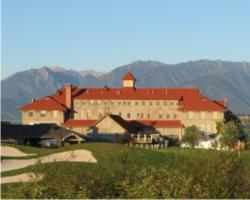 Completely self-contained, St. Eugene Golf Resort & Casino is the ideal location for writers to retreat, rejuvenate and revitalize their work.
Cranbrook, BC (PRWEB) April 19, 2012
St. Eugene Golf Resort & Casino will host the inaugural St. Eugene Writers Conference from May 18th to 20th, 2012. Drawing writers from across Canada, the Conference will connect established writers with aspiring writers seeking to develop their craft. The format will consist of three day intensive small group workshops led by writers with a distinct Western Canadian flavor and two parallel publishing seminars on digital and self publishing. Beyond the workshops, panel discussions on writing, self-publishing, traditional publishing, selling your book and author readings will be held and open to the public at no cost.
In an effort to meet the new demand for on-line and self-publishing, the St. Eugene Writers Conference added two publishing seminars and a digital focused writing workshop to the initial Conference line-up.
"Going Digital" will covert the nuts and bolts of on line publishing with Kindle, Nook and other options. The course will be both hands on and informative in how a traditional book or a new work is converted to on line use and the new forms of marketing that accompany on line publications. Randy Morse will lead this seminar. With over 35 years in the publishing business and a successful transition from conventional to digital, Randy will cover the nuts and bolts and the more esoteric aspects of going digital.
"Publish This Book" will take writers step by step through the process of turning a manuscript into a printed work. From the initial draft, the editing, the design, the layout and make-ready for the press to the actual printing, collating and binding of the book. With the help of Rocky Mountain Printers, a Cranbrook printer becoming active in producing short run self-published books, we will be able to actually follow a book through production to the finished product. This seminar will be team taught by Don Wik of Rocky Mountain Printing and a writer/editor. With well over 30 years as a printer, Don knows what it takes to turn a manuscript into a printed book in hand.
In addition, Bobby Hutchinson will be leading "Romancing the Kindle", a 3-day writing workshop combining romance writing and Kindle publishing. In this workshop she deals with both the traditional structure of the romance novel and publishing in either a conventional format or the option of publishing independently in the Kindle format. With over 50 Harlequin romances to her credit and having just completed converting 28 to digital form, Bobby is a wealth of information on both paths to the reader.
Another change with the first Conference is the separation and re-scheduling of the Weeklong Workshops to the week of October 8-15. The Conference Director Keith Liggett said in explaining the re-scheduling of the longer workshops, "While there's substantial interest in the week-long workshops, we found most potential participants needed more time to plan a chunk of time off. This will allow us to concentrate on the core weekend writing and publishing workshops and meet a critical informational niche for writers."
For more information:
Jessica Britton, Conference Coordinator
jessica(at)steugenewriters(dot)ca
250-420-2022
Keith Liggett, Conference Director
keith(at)steugenewriters(dot)ca
St. Eugene Golf Resort & Casino is a full service resort located five minutes from the Canadian Rockies International Airport, 10 minutes from Cranbrook, and 20 minutes from Kimberley. The resort offers awe-inspiring views of Fisher Peak and the Canadian Rockies, and an ideal base for both tourists and business travelers. In addition to 125 guest rooms and four dining outlets, the resort offers over 11,000 square feet of first class function space, the spectacular St. Eugene 18 hole golf course and the Casino of the Rockies, a 19,000 sq-foot full service casino. For more information on St. Eugene Golf Resort & Casino, please call 1.866.292.2020 or visit http://www.steugene.ca.