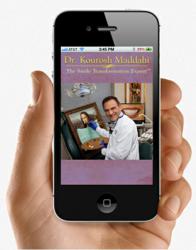 Beverly Hills, CA (PRWEB) April 10, 2012
Dr. Kourosh Maddahi, a Beverly Hills Cosmetic Dental Expert, has just created an app for Apple iPhone and Apple iPad to keep in touch with patients. As a premiere dentist to the Stars for over two decades, Dr. Maddahi has pioneered the future of dentistry, always looking for ways to provide better care for his patients, and to preserve two of their most valuable assets—their teeth and their time.
As technology evolved over the years, Dr. Maddahi replaced passé metal drills with a cool laser for painless dental work, built a dental spa that makes teeth whitening feel like going to have a facial, opened a concierge service to cater to out-of-town patients, and now has created an iPhone app to make his office more convenient and accessible.
Today, people increasingly rely on their Apple iPhones or smart phones to tell them where to eat, bank, shop, map directions and get around. Dr. Maddahi's iPhone app aims to transform how his patients communicate with the dentist office, and make it possible for new patients to get acquainted with the facilities and services no matter where they are.
"My philosophy has always been to make a visit to the dentist easy and painless for my patients," Dr. Maddahi said. "With this new iPhone app, they can instantly reach me and my office with one touch on their iPhones or iPads. "
On the Dr. Maddahi Apple iPhone app, patients can make an appointment, live chat with the front desk, email their questions, map directions, read patients stories and discover new services to improve their smiles. They can also fill out all their paperwork on the iPhone or iPad before they come for their appointment. And in a community like Hollywood and Beverly Hills, smile maintenance is as important as a trip to the hair salon, day spa for a facial and mani/pedi.
"Our patients love the new iPhone app to make appointments with Dr. Maddahi and fill out their paperwork electronically," said Meagan Cayasso, Dr. Maddahi's Patient Care Coordinator. "Now, Dr. Maddahi is just a touch away and when people come in from out of town they can easily organize travel arrangements to and from our office with their iPhones."
Dr. Maddahi's iPhone app is available to download now through itunes.
The app was developed by Ultimate Business Apps, Inc. of Beverly Hills, CA.
About Dr. Kourosh Maddahi, The Smile Transformation Expert
Award-winning Cosmetic Dentist Kourosh Maddahi uses the latest in advanced dental technology to help transform his patient's smiles beautifully, comfortably and rapidly. Over the last 25 years, Dr. Maddahi has made it a point to equip his office with the latest and best technological advances so he can provide the best possible care to his patients.
As a top cosmetic dentist, Dr. Maddahi and his work have been featured on TV shows such as Oprah, 10-Years Younger, Entertainment Tonight, and Extreme Makeover, as well as on numerous news broadcasts, including FOX's Good Day LA, KTLA morning news, KABC News, CBS News and CNN.
Visit http://www.drmaddahi.com or call 888-310-6771 for more information about Dr. Maddahi. Dr. Maddahi's office is located at 436 North Roxbury Drive, Suite 202, in Beverly Hills, CA 90210.