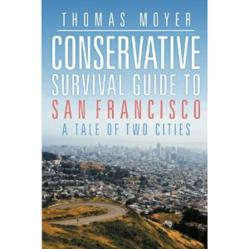 San Francisco, CA (PRWEB) April 02, 2012
Thomas Moyer is a Conservative. And while that wouldn't raise eyebrows in Biloxi, Moyer lives in San Francisco. He is on a mission to change Liberal perceptions of Conservatives, and Conservative's perception of San Francisco. His ample stores of good will and quick wit, are both on display in the Conservative Guide to San Francisco.
Moyer's close friend, Jason Clark, has declared his Republican candidacy for newly drawn 17th district of the California State Assembly. Clark is running against incumbent Tom Ammiano, a well-known and outspoken member of the gay community. Clark is out to win the seat and to prove a point. As he told SFGate.com, he wants to spotlight the gains made by the California Republican party toward inclusiveness.
"Gay people have taken a step forward," in the GOP, Clark told the news site. "We have gay county chairs, a Log Cabin member on the state board and the executive committee of the San Francisco Republican Party is almost all women."
Both Moyer, 29, and Clark, 31, are part of a new generation of Conservatives making the Bay Area safe for intelligent, honest political debate. These new right-of-center activists are clearing a path for young Conservatives to follow, making things happen, and showing Liberal San Francisco that a little diversity in thought is nothing to fear.
Join Moyer and Clark at a Log Cabin Republican fundraiser on April 25, 2012 at the Sausage Factory. Moyer will be signing copies of the Conservative Guide to San Francisco.
About Thomas Moyer
Thomas Moyer has spent nearly a decade within the city limits of San Francisco with his beautiful wife. He spent most of his life in the Pacific Northwest before transplanting to San Francisco for graduate studies. He earned his MBA from the University of San Francisco and works in online advertising technology. Moyer is a professional conservative blogger (http://moderatemoyer.com/) and founder of http://www.moderatemoyer.com. While living in San Francisco, Moyer serves as a California State Republican delegate, Vice President of the San Francisco Young Republicans, Alternate Member on the SFGOP Central Committee, member of the Log Cabin Republicans (SF), Associate Member of the Nob Hill Women's Federated and an active volunteer in the city. For media inquiries, please email moderatemoyer(at)live(dot)com.
About the Conservative Guide to San Francisco
Conservative Guide to San Francisco (http://www.conservativesurvivalguide.com) provides a conservative insider's perspective into San Francisco—its people, culture, politics, and what it's really like to be a "Mandrake" inside the most liberal city in America. More importantly, he shows conservative readers how he learned to stop worrying and love the city. Conservative Survival Guide to San Francisco is more than just a looking glass into the bipolarities of the cool gray city of love. It also takes into account the author's experiences in the most liberal city in America and is meant to show a snapshot into the life of a conservative. At turns striking and original, this eruditely crafted piece is the ultimate guide to the rabbit hole that is San Francisco.