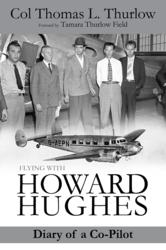 These are my grandfather's exact words just as he typed them on his typewriter soon after the record breaking flight was over. Nothing was changed.
(PRWEB) April 09, 2012
It was 1938 and, at the age of 33, First Lieutenant Thomas L. Thurlow was approached by Howard Hughes to navigate and co-pilot a risky but monumental flight around the world in hopes of breaking the world record. The war department granted Lt. Thurlow two months leave so that he could participate in the flight. The crew of five broke the world record by circumventing the globe in three days, nineteen hours and seventeen minutes.
Soon after the flight was over, Lt. Thurlow wrote a diary of the flight. Only the family members of the late Lt. Thurlow had access to the diary, until now.
Published by his granddaughter Mrs. Tamara Thurlow Field, Thurlow's diary chronicles the flight as it unfolded in his own words. It is a candid view of what it was like to fly with Howard Hughes and the trials and tribulations the crew endured during this record breaking flight. According to Mrs. Field, nothing in the diary was changed or edited for the book.
"I never knew my grandfather," says Tamara Thurlow Field, granddaughter of the Late Lt. Thomas L. Thurlow. "He died when my father was only nine. But, after reading the manuscript that he had meticulously typed on his typewriter soon after he participated in Hughes's record breaking flight, I felt as if I had known him all my life. His story jumps off the page and makes you actually feel like you are there with him on this amazing flight. His words are sincere, humble, incredibly intelligent, and at times quite humorous."
"My grandmother gave me the diary before she died. It sat on my bookshelf for years." Mrs. Field continues, "I finally realized that I needed to share my grandfather's diary with the world."
Col. Thurlow crashed to his death in an airplane accident on June 19, 1944; near Love Field, Texas while flight testing a new compass. He left behind is wife Lois, and their two sons, Thomas, age nine, and Lawson, age three.
The book, Flying with Howard Hughes: Diary of a Co-Pilot, is available now through Amazon in paperback and Kindle versions.
For interviews with Tamara Thurlow Field please contact tamara(at)press8(dot)com.