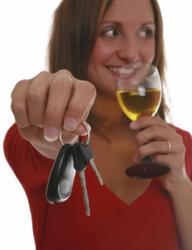 Wheat Ridge, CO (PRWEB) April 02, 2012
Lifeloc Technologies, a trusted manufacturer of portable breath alcohol testing equipment and substance abuse training programs for Law Enforcement, Corrections, Educational Institutions and personal use is reminding everyone that April is Alcohol Awareness Month. Take time this month to educate yourself, your loved ones and your workplace about the dangers of alcohol abuse. The facts are startling:
Every day, almost 30 people in the United States die in motor vehicle crashes that involve an alcohol-impaired driver. This amounts to one death every 48 minutes. The annual cost of alcohol-related crashes totals more than $51 billion. As Prom season gets underway remember that alcohol-fueled road accidents are the leading cause of death in the 15-20 age group.
Here are four of the most common and dangerous alcohol myths that Lifeloc encounters time and again in both social and problem drinkers:
1) Myth: Beer is less intoxicating than other types of alcoholic beverage.
Fact: One 12-ounce can of beer, one 4-ounce glass of wine or one normal mixed drink or cocktail are all equally intoxicating.
2) Myth: Pennies will Absorb Alcohol and Fool a Breathalyzer
Fact: A penny in your mouth or under your tongue will not change your level of intoxication or fool a breathalyzer. As a matter of course, Officers make sure you have no substances in your mouth before conducting a breath alcohol test.
3) Myth: I can sober up quickly with coffee or a shower if I have to.
Fact: It takes about 3 hours to eliminate the alcohol content of two drinks, depending on your weight. Nothing can speed up this process – not even coffee or cold showers.
4) Myth: I can drink and still be in control.
Fact: Alcohol impairs judgment and reflexes in amounts well below your states legal driving limit. At .08 BAC everyone is intoxicated regardless of their drinking history, weight, sex or fitness. Never drink and drive.
For educational information about binge drinking, alcohol poisoning and BAC Management and Alcohol Addition visit our About Alcohol page.
About Lifeloc Technologies
Lifeloc Technologies, Inc. is a trusted international provider of precise, reliable and easy to use portable breath alcohol testing instruments (breathalyzers). Lifeloc offers comprehensive online and classroom training, plus a complete line of supplies and drug screening products. Our alcohol testing devices have been manufactured continuously in Colorado since our founding in 1983. Lifeloc evidential and screening devices are approved by the U.S. DOT and other state and international regulatory agencies. More information about Lifeloc is available at http://www.lifeloc.com