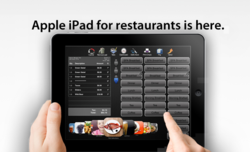 Toronto, Canada (PRWEB) April 02, 2012
ISISPOS Inc,The Crescent Hotel Beverly Hills selects ISISPOS for its cloud advanced architecture and easy to use POS solution .ISISPOS allows the Crescent Hotel to be totally mobile and streamlined to deliver personalized guest service. The ISISPOS solution combines powerful reporting and configuration capabilities in the back office with an easy-to-use touch-screen terminal application. Designed for multi-unit operations common in hospitality environments, the system can manage any combination of dining, bar service and retail operations. Features include real-time reporting capabilities, true mobility, Gift Card, Loyalty Rewards, Cash Management and Alert Management.
"As an exclusive boutique hotel company with multiple properties, we require a technology partner that can provide a tailor-made solution to fit our unique needs," stated Susan Cronin Owner and CEO, ISISPOS is the POS solution the industry has been fantasizing about for years. As a boutique hotel with an emphasis on F+B, we have been long searching for a system which reinforces our branding through good design, seamless guest experience and high efficiency. Isis is a cloud based solution which diminishes the need for costly IT providers and provides tremendous flexibility on the administrative backend. Finally, a smart POS designed by hospitality minds for hospitality minds"
"We are excited and pleased to be selected by the Crescent Hotel Beverly Hills" stated Paul Perri, Executive Vice President ISISPOS. "Our approach to customer relations and designing software products is a great fit. We look forward to supporting he Crescent Hotel Beverly Hills in achieving their strategic goals of a superior guest experience"
About Crescent Hotel Group.
Crescent Hotel Group ("CHG"), founded in 2001 by Gregory Peck and based in Beverly Hills, California, is an entrepreneurial operationally integrated developer, owner and manager of unique hotel properties. The CHG vision is to create niche hotel properties in urban locations which offer finely tuned personalized service, intelligently designed spaces, vibrant food & beverage offerings and a compelling destination specific experience that reflects a true connection to the local community, all at an approachable price point. Above all, whether via high aesthetic values, well positioned locales or creative programming, CHG seeks to create and manage hotels with one goal in mind, to surprise and delight its guests. CHG is currently expanding and is aggressively seeking opportunistic acquisition, development and management opportunities that will fit within its unique business model and will serve to grow its portfolio.
About ISISPOS:
ISISPOS is a revolutionary hospitality point-of-sale system that combines Apple innovation with powerful business logic; it offers fully featured and easy to use solutions designed for the restaurant industry. ISISPOS provides an anywhere, anyplace web-based interface that produces clear reports and analytics of single or multi-store operations, saving companies time and giving them absolute control over their business operations.
Contact: Paul Perri paulp(at)isispos(dot)com
###