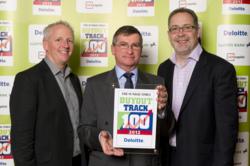 Colchester, Essex (PRWEB UK) 19 April 2012
Access, based in Stratford St Mary near Colchester, has been recognised as one of the UK's fastest growing companies in The Sunday Times Buyout Track 2012. The annual list recognises private-equity-backed companies with the fastest-growing profits (ebitda) over the last two years. Access was ranked at number 47 after profits grew 43% per year since 2009.
Access has grown on the back of an expanding product range, driven both by its in-house developers and the acquisition in 2010 of a company that designs HR systems. Early last year, Lyceum bought a majority stake, in a deal that valued the company at £50m. Chris Bayne, CEO for Access, said, "Being recognised as one of the UK's fastest growing companies demonstrates that our business strategy is working. We set ourselves ambitious targets at the time of the MBO and are determined to keep growing.
"We're going to continue to bring the best in business software to the mid-market. At Access we believe that technology plays a major part in providing organisations with a competitive edge. This is certainly what we aim to help businesses achieve which, in turn, will hopefully continue to impact positively on our own bottom line."
Access, which has nine offices across the UK and Ireland and employs more than 350 staff, has extended its product suite considerably since it first began developing accounting software 21 years ago. Whilst this remains at the heart of Access' portfolio, the organisation-wide solutions now include everything from HR and professional services automation – including time and expenses – through to CRM, manufacturing and document management. In 2009, the company underwent a rebrand and a major shift in business model from reseller driven to direct-to-market;
Access has since seen a growing number of six figure deals as it continues to increase its 5,000-strong client base, spanning most sectors.
For more information on Access, its consultancy and software solutions contact Matt Newman on 0845 345 3300 or visit http://www.theaccessgroup.com.
-Ends-
About Access:

Access is a consulting, software and solutions provider, serving the mid-market
The consulting services are backed by more than 75 accredited consultants, providing business software expertise. They operate nationally out of eight offices in the UK and Ireland
The software portfolio provides solutions to meet the needs of the whole organisation, helping to reduce complexity and increase efficiencies at every level. In addition to accounting and finance, Access also offers manufacturing software, professional services automation, and accounting for carbon emissions reporting. Other software solutions include distribution and warehousing, HR and payroll, document management, service and contract management and CRM and sales automation
Accreditations and memberships:
Microsoft Gold Certified Partner
Institute of Chartered Accountants in England and Wales (ICAEW)
Business Application Software Developers Association (BASDA)
HM Revenue & Customs: Payroll Standards Scheme
Awards:
Inclusion in The Sunday Times Buyout Track 100 list (47th)
Inclusion in The Sunday Times Profit Track 100 list (63rd)
Inclusion in The Sunday Times 100 Best Companies to Work For list for mid-market companies (85th)
Accountancy Age Award 2010 for 'Software Package of the Year'
SIFT Media Software Satisfaction Awards 2010 for 'Enterprise Accounting & Finance'
SIFT Media Software Satisfaction Awards 2010 for 'SME Human Resources & Human Capital Management'
FrontRange Partner Awards 2010 for 'CRM Partner of the Year'
Green IT Awards 2010 for 'Environmental Accounting Software of the Year'
Construction Computing Awards 2010 and 2011, 'Construction Accounting Software of the Year'
Media information:
Helen Carpenter
Head of Group PR
Access UK Ltd
T: +44 (0) 1206 322575 / 07833 936311
F: +44 (0) 1206 322956
E: helen.carpenter(at)theaccessgroup(dot)com
W: http://www.theaccessgroup.com
Tim Cole
PR Executive
Access UK Ltd
T: +44 (0) 1206 322575
F: +44 (0) 1206 322956
E: tim.cole(at)theaccessgroup(dot)com
W: http://www.theaccessgroup.com
Access.220312.TC.Fasttrack