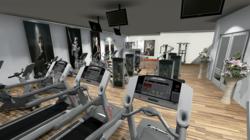 3D gym design without having to use complicated CAD software
Örebro, Sweden (PRWEB) April 02, 2012
EasySale Sweden's ECDESIGN Space Planner, a 3D layout software created by Swedish software developer EasySale Sweden, now has over 500 organizations in 80 countries using it every day. ECDESIGN makes it possible for people working with fitness equipment sales to plan and visualize fitness club and gym design in 2D and 3D without having to use complicated CAD software or hire expensive 3D designers.
There are many advantages to using 3D software to plan and present a fitness club layout. The club owner will be able to see what the future club location will look like. 3D also helps optimize the floor plan and avoid safety problems. This information is not possible to get from a traditional 2D floor plan.
ECDESIGN also generates 3D material needed in the pre-sale process of a fitness club, including images and walkthrough videos for websites, YouTube, and Facebook. The pre-sale of a club is absolutely vital for a club to attract new members.
Commercial fitness industry leaders such as Technogym, Star Trac, Precor, Life, Matrix and Cybex all provide ECDESIGN to its sales force, distributors, and dealers. In total over 20 manufactures of fitness equipment use ECDESIGN in the sales process and more are rapidly joining.
About EasySale Sweden
ECDESIGN Space Planner was designed for people working in sales. Plan and present in 2D and 3D without spending a lot of time and money. With ECDESIGN, there is no learning curve. In 10 minutes you'll be making your first 2D layouts and 3D presentations. ECDESIGN is sold as a yearly license including free support and updates. ECDESIGN is currently used by over 500 organizations in more than 80 countries. EasySale is a privately held company with their head office in Sweden.
Contact
Richard Gronberg
richard(dot)gronberg(at)easysale(dot)se
http://www.easysale.se
TEL: +46 19 10 26 10