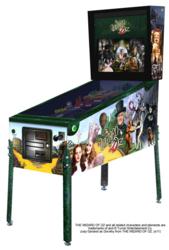 This game will check the boxes of many 'industry firsts' and is a paradigm shift for pinball into the 21st century.
Lakewood, New Jersey (PRWEB) April 06, 2012
On January 1st 2011 when amusement game industry veteran Jack Guarnieri announced the formation of a new company to design and build commercial Pinball Machines, the world of Pinball turned upside down. The company known as Jersey Jack Pinball, Inc. had licensed the iconic Warner Brothers property, The Wizard of Oz to be their first game. Jack's roots are in pinball since 1975 when he started to repair electromechanical pinball machines.
Jersey Jack Pinball, Inc. (JJP) will build 1,000 very special 'Emerald City Limited Edition' versions followed by a standard version Wizard of Oz Pinball Machine which the company expects to sell many thousands of worldwide. Since JJP began taking pre-orders shortly after they announced the title, by last July they were sold out of the Limited Edition games although a few games may be available through distributors.
JJP keeps their customers and fans aware of progress via weekly email updates. Jack said "We even have a special online Newsgroup just for WOZ Owners. This has become an amazing community; our customers are just as much a part of this journey as our team members are. Some customers have even said waiting for the email updates from us is like waiting for Christmas morning!" One of JJP's latest updates revealed the hand drawn created by playfield artist Artist, Greg Freres.
JJP began production officially on March 13th 2012 as many vendors are producing parts for the game in different locations across the country. All of these parts are slowly making their way to JJP's 42,000 sq foot building in Lakewood, New Jersey where games will be assembled. The plan is to be shipping games in late Spring/early Summer 2012.
Jack assembled a very talented team of accomplished pinball designers and industry experts. The game has been designed with passion and no detail is too small to be overlooked from the artwork on the cabinet to the game programming. Jack believes that a rolling steel pinball and the different design elements and playfield toys is what is the magic of pinball. This mechanical action cannot be duplicated on video games and the fact that pinball is a skill game is one of it's most loved elements.
This is as much a story of the rebirth of pinball as it is a business story. To pre-sell 1,000 games, millions of dollars worth of a new product in this economy is unheard of and a testament to Jack's industry reputation. This also puts millions of dollars in motion for vendors to make parts, buy equipment and hire people in support of JJP who's mission is to use as many suppliers based in the United States even if those parts may cost a bit more.
In recent years, pinball has become more of a novelty in commercial arcades. Through one of Jack's other companies, PinballSales.com which he founded in 1999 to sell commercial amusement games to the consumer marketplace, Jack has built a reputation for customer service and a customer base of over 12,000 customers all over the world. The trademark saying of PinballSales.com is; "We sell everything nobody needs".
Pinball today needs to be a game which has the true mechanical action but instead of a static picture in the back head or backbox of the game, JJP's Wizard of Oz features a commercial 26" LCD monitor which will display custom animation, scores, and movie clips. The booming sound system which features custom music and voice characterizations from professional actors who marry pinball language and speech calls to the iconic movie weave the classic story through this pinball machine.
The game employs the use of Bally/Williams parts which have been used in what players would agree is the best era parts to have. The game is a wide-body game which gives more room for designers to add toys, ramps, and lots of action to the game. It is loaded with five flippers, four magnets, four pop bumpers, Dorothy's house located on the upper Munchkinland playfield that a player will have to make a loop shot around to get it spinning and when it drops, the feet of the Wicked Witch of The East pop out from its bottom!
This game will check the boxes of many "industry firsts" and is a paradigm shift for pinball into the 21st century. The idea is to build a new player base of young people who have never played pinball before. Loading JJP's games with new technology, custom sounds, light shows, physical interaction, and animation on an LCD monitor all add up to a fun experience for millions of new players.