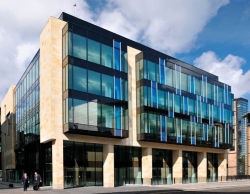 The new location will accommodate the growth in headcount required to meet the demand 4sight has seen for its products amongst financial market participants.
Edinburgh, UK (PRWEB UK) 13 April 2012
4sight Financial Software, a leading provider of software and consultancy to the Securities Finance and Collateral Management markets has moved to new larger offices for its Edinburgh UK headquarters. The new location will accommodate the growth in headcount required to meet increased demand for 4sight's software products amongst financial market participants in recent years.
This has largely been driven by interest in 4sight's Securities Lending solution and Collateral Management system which provide trade lifecycle and risk management, automation and workflow for financial institutions engaging in the Securities Finance, Repo and OTC/listed derivatives markets.
"We are delighted to move to Exchange Place", comments Martin Seagroatt, 4sight's Head of Marketing. "The new location will provide an outstanding working environment and give us the flexibility to increase headcount to support the growth in our global client base the company is currently experiencing."
About 4sight Financial Software
4sight Financial Software is an independent software solutions provider to financial institutions, with sixteen years of experience and offices and clients worldwide.
4sight's customer base includes a full spectrum of financial market participants from banks, asset managers, pension funds and insurance companies to global broker dealers. Clients in sixteen countries on four continents use 4sight's software to meet their business needs and 4sight offers the reliability and experience of a company with a proven track record.
4sight's product range includes solutions for Securities Finance, Collateral Management, Collateral Optimization, Settlement and Market Connectivity. 4sight's software helps financial institutions to improve efficiency, reduce costs, automate manual processes and control risk.
4sight also provides project management, consultancy services and customer support through its global network of offices.