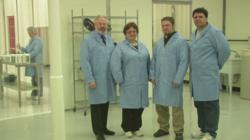 Adya Inc. leads the way in ionized mineral concentrates used for water purification
Coldwater, MI (PRWEB) April 01, 2012
Adya Inc. founder, Matthew Bakos and President/COO Dennis Babjack, industry leaders in water quality, announced the addition, effective immediately, of businessman and entrepreneur Fred Foster of Jackson, Michigan as CEO of Adya Inc. Adya currently has distributors in the United States, Europe, Canada, Africa, and New Zealand, with new contracts currently being reviewed for Australian and Asian markets.
Foster was an executive for an international medical supply company. During his tenure, he helped to take this company from a $4 million operation to a $74 million global entity. He will bring his wealth of experience, knowledge, and leadership to help expand Adya's business base and market share in the world.
Foster was the founding principal of two private Christian schools. Eastern Michigan University had offered him two teaching fellowships in the mathematics and logic departments upon graduation, however, he chose the title of "teacher," and went on to teach every grade from kindergarten through university. Fred takes much of his spiritual strength and purpose from his family. His wife, Sylvia, is a registered nurse. They have three sons, one an ordained minister in Jackson, another a professional musician with the Lansing and Jackson Symphony Orchestras, and a third son working as a foreign language instructor in Falls Church, VA.
Adya Inc. leads the way in ionized mineral concentrates used for water purification, "live" mineralized drinking water, agriculture, and waterway cleanup, to name a few. Foster shared, "Adya Clarity is currently trademarked in the U.S. and Canada and being trademarked in five European countries. Plans are being implemented for enlarging our distribution, bottling, and warehousing centers in Amsterdam, the Netherlands," Foster said. "Adya Clarity received two Canada Health Natural product ID numbers required for distribution in Canada."
Foster explained, "Adya Inc. just added a Chicago distribution center for concentrates only, with plans to add a similar facility in Europe to support the growth and expansion of private labeling and other rebranding opportunities. "The expansion of our Adya Clarity customer base the last two years in the U.S. and Canada perfectly positions our products to take off worldwide. Adya Inc. just moved into a new 17,000 square foot facility which will contain a multiline bottling operation and fulfillment center. The facility will be GMP certified to meet FDA requirements for U.S. and worldwide distribution."
Sharon Fernandez has also joined the Adya executive team as Chief Administrator. She brings 25 years in finance and information technology to Adya Inc. as well as program management skills. Her passion is to work with Matt Bakos and Fred Foster's vision to make Adya's Living Waters accessible to non-profits and nations responsible for delivering good water to the world's people. Her expertise in the non-profit realm and virtual team collaboration will also help to move the company forward in new and exciting ways, leveraging the integrative work of Adya Inc. with Living Waters for Non-Profits, a planned new Adya venture.
Sharon worked ten years as an executive technical assistant with the Environmental Research Institute of Michigan (ERIM) from which she served as Principal Investigator, architecting the team and workforce training proposal to bid and win a $20,000,000 grant from the U.S. Department of Energy. The Adya team's goal is to repeat this win, finding investors and soliciting funding for Christian mission work bringing good water to areas hard hit by natural and man-made disasters.
Fernandez and Foster got Matt Bakos' attention in part due to their years-long devotion to Christian mission work and their shared desire to bring good water to those most in need of it.
Rose Goras, a member of the Adya founding team, has been named as Adya Clarity Marketing Brand Manager. "Her history with Adya Inc. makes her the perfect candidate to manage brand information and marketing," said Babjack. "Rose has experience working with TV, radio, and the Arts in western Michigan and Ohio. She will be instrumental in marketing and management of the Adya Clarity brand."
Foster continues, "The additions to the management team will guide us in managing the rapid growth while helping to identify the many anticipated new uses of the concentrate as an ingredient to counter the rapid deterioration of water quality, along with providing new untried solutions to water shortages. The potential of climate change to increase wild weather and spikes in natural disasters presents yet another opportunity for Adya Inc. The disaster preparedness market is developing rapidly, along with the Survivalist/Prepper's interest in being ready for any contingency. Water issues are at the core of all of these," said Foster.
"Adya Inc.'s mission, along with its Distributors, has always been to teach the world about good water and the positive benefits it brings. In doing so, we will not only open new opportunities for the company – but together we will apply our considerable combined energies and talents to bring good water to a world sorely in need of it."
For more information, see http://www.adyawater.com