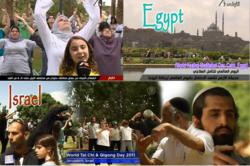 World Healing Day's goal is to advance and celebrate the power of the human spirit, only fully realized when we come to terms with the fact that we are one world...one breath, sharing a common home called Earth.
worldwide, and in all 50 US states. (PRWEB) April 12, 2012
In 2009 the founders of World Healing Day and World Tai Chi Day were honored guests of the Brazilian government, and spoke during that nation's national celebration of their nation's capitol's birth, because these events had become woven into Brazilian culture.
In 2012, the founders of World Healing Day will be guests of Australian groups organizing World Healing Day and World Tai Chi Day events throughout Australia.
16 years ago a mass event held in Kansas City was picked up by CNN, causing it to quickly become a global event. It had 3 purposes: To educate the public of the health & economic benefits of mind-body technologies; To thank Chinese culture for the gifts of T'ai Chi and Qigong; and to provide an example of how the internet can be used to advance human connection across racial, ethnic, and geopolitical borders.
Today that event has spread to hundreds of cities in over 70 nations, and its motto has become "One World ... One Breath." It's goal has expanded as the event has. World Tai Chi Day gave birth to World Healing Day as organizers were contacted by mind-body groups worldwide, who were captivated by this concept of human unity, and it has expanded.
So, how DID it all begin? 16 years ago a mass personal and community healing event was held on the south lawn of Kansas City's beautiful Nelson-Atkins Museum of Art. 200 tai chi practitioners came together to hold a spectacular human event of a mass tai chi exhibition to educate the public of how mind-body arts can help foster a healthier, calmer world.
CNN covered it and it captured the world's imagination. The next year it was held in 6 states and 6 nations. The next year the event doubled, and now 16 years later event will be held in 2012 in hundreds of cities in over 70.
It has received official recognition for being part of the United Nations World Health Organizations Movement for Health celebrations, and has also been recognized as part of the US Department of Health & Human Services Women's Health Week celebrations.
World Healing Day's sisterhood of events have been officially proclaimed by governors of 22 US States, and by health ministries, senates and legislatures, including California and New York.
Past events have included ones held at the United Nations Building and at the Nobel Peace Center in New York.
Learn more at:
WorldHealingDay.org
WorldTaiChiDay.org
WorldQigongDay.org
WorldYogaDay.org
WorldPrayerDay.org
WorldArtDay.org
WorldMusicHealingDay.org
WorldNativeAboriginalSacredDanceDay.org
WorldMusicHealingDay.org and others.
World Healing Day invites people all over the planet to envision a world of health & healing for all of Earth's children.
Research indicates this may be more than a poetic act. The value of this act may be proven by modern scientific research.
Of course, World Tai Chi Day, World Qigong Day, World Yoga Day, World Reiki Day, etc. can help improve world health in a highly cost effective way, and this global event helps share emerging scientific research on mind-body solutions to global health challenges.
But, that may only be the beginning of the value of World Healing Day. In the early 1990s an experiment was conducted in Washington DC during the high crime season. It involved bringing meditators in an effort to calm the city and reduce crime.
It worked. They reduced the crime rate of violent crimes by 25%. Indicating that by using meditation to harmonize human consciousness it could positively affect people surrounding the meditators.
Another research project called The Global Consciousness Project, which evolved out of research at Princeton, found that when human consciousness focuses en masse, it actually physically effected computers worldwide. Princess Diana's death, the events of 9/11, and other tragedy's had this effect.
World Healing Day asks, "What if human consciousness were focused, not on fear and tragedy, by on an intent for personal and global health & healing, for a 24 hour period?"
Past media coverage includes:
[The last Saturday of April] is World Healing Day, plus
Adam Yauch (Beastie Boys) and Yoko Ono are
meditating twice daily for world health . . .

"What if human consciousness were focused en masse
for a 24 hour-period, not on fear and desperation, but
on an intention for personal and global healing?"
[World Healing Day's] founders asked. Details may be
found at WorldHealingDay.org.

Al-Ahram Weekly, Cairo, Egypt
World Healing Day ... addressing world healing

Today is World Healing Day ... [it] seeks to unite
healing intentions from a multitude of
spiritual and medical practices.

ABOUT THE EVENT'S FOUNDERS:
Bill Douglas is the author of the best-selling T'ai Chi book, "The Complete Idiot's Guide to T'ai Chi and Qigong" (Penguin-Alpha Books, New York. 4th edition due out October 2012). He was the 2009 Inductee to the Internal Arts Hall of Fame in New York, and he's been commissioned by many of the world's largest corporations to teach stress-management to their employees, executives, and clients. He taught at Folsom Prison and other penal institutions as well as for major health corporations.
However, Bill's founding a global movement began with his personal search for calm and peace. Bill was the son of a combat veteran who'd suffered PTSD from years of frontline combat. When Bill had his own children his PTSD from growing up in a PTSD household resurfaced with a vengeance.
Determined not to pass the damage of war on to his own children, Bill began a personal quest for healing that led to psychotherapy and eventually to meditation and Tai Chi practice. His journey eventually led him to teaching these tools worldwide, and he began to realize that this inner-calm, when multiplied by billions of people could result in a clearer calmer planet.
World Tai Chi Day was born out of Bill's journey, and World Healing Day was born out of that.
Today, Bill travels the globe promoting the vision of "One World ... One Breath," and urging the world to see that how we think about ourselves and our world is ultimately what creates the world we see. The Arizona Republic just reported on his work, and on World Healing Day 2012 he'll be speaking in Australia, before returning to present to the Winnebago Native American Tribe in Nebraska. Year ago when Bill was teaching at Haskell Indian Nations University in Kansas, he learned of the Native American's Medicine Wheel's meaning, that when the corners of humanity begin to see the wisdom of the others as equally important as their own, the world will find its balance and its peace. Bill learned Eastern mind-body techniques that helped heal his family, are now spread across the entire planet, and perhaps, in some small way, his journey, his work, and his vision are contributing to this epic time in human history.
Through organizing a global event year after year that brings the quilt of humanity together to together envision a world of health & healing, his hope is to foment this reality through the power of human consciousness.
His ultimate dream is to see that his father's and his own generation are the last ones to see the barbarity of what his father experienced in combat.
Bill's vision may be coming true. A recent study released revealed that the Earth is now less violent than at any time in human history.
"One World ... One Breath."