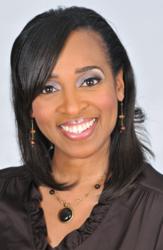 I'm elated to have this opportunity.
Washington, DC (PRWEB) April 11, 2012
For "America's Night of Hope" in Washington, DC, local TV host Cassandra Hill will soon come face to face with NY Time's #1 best selling author, Joel Osteen. Mrs. Hill gets double honors as she will also cover and interview Youth and Young Adult Pastor Nick Nilson for Generation Hope. Pastor Nilson teaches young people from generation "Y" that living a life of Christianity is fulfilling, fun, and easier than one might think.
Cassandra Hill is the proud creator of Cassie Land LLC, which is a multi-media television and book publishing company. Through Cassie Land LLC, which one may peruse at http://www.CassieLandLLC.com, Mrs. Hill is a field producer and television host of "Unity" for AM TV channel 21. "Unity" features events and individuals that bring people together from all walks of life to inspire the greater good in our society.
Cassandra eagerly tunes in weekly to Joel Osteen Ministries, drawing on his inspiration to stay in the game of life, pursue her dreams against all odds, and at the same time include God as the foundation to obtaining those dreams.
Pastor Osteen teaches, "You have the DNA of God in you. He put your dreams in you and He knows how to bring those dreams to life!" Cassandra reflects.
Never letting anyone determine her self worth, Cassandra's dreams have always included reaching for the loftiest of aspirations. Mrs. Hill states "As Joel Osteen would have said, 'This is truly my who would have thought moment.' I'm elated to have this opportunity."
To prepare for this moment, previous celebrity interviews include Victoria Rowell of The Young & The Restless; Roscoe Orman who is "Gordon" from Sesame St; NEA President Mr. Dennis Van Roekel; Grammy nominated singer Janelle Monae, and Grammy nominated producers Nate "Rocket" Wonder and his brother and fellow producer Roman GianArthur. She's twice covered First Lady Michelle Obama, as well as covered the Obama family as a unit at the 2011 White House Easter Egg Roll. View details at: http://www.wix.com/dwalk51/Cassandra-Hill
"AMERICA'S NIGHT OF HOPE"
Pastor Joel Osteen will be in Washington, DC on April 28, 2012 to deliver "America's Night of Hope." The event, hosted by Joel and Victoria Osteen, will take place at National's Park which is home to the Washington Nationals starting at 7:00PM. As part of pooled press, Mrs. Hill will interview Senior Pastor Joel Osteen of Lakewood Church during his charitable events prior to the culminating ceremonies on April 28th.
On April 26th and 27th, Pastor Osteen and his Youth and Young Adult Pastor, Nick Nilson, will take part in Generation Hope, which is an outreach of Joel Osteen Ministries. Generation Hope utilizes youth and young adults ages 18 to 35 to deliver "HOPE" to the needy. Five hundred Generation Hope volunteers have signed on to participate. For more info, visit http://www.generationhopeproject.com.
When Cassandra Hill comes face to face with Pastor Osteen regarding his New York Times #1Best Selling book "Every Day a Friday," and "America's Night of Hope," it will certainly be a dream realized indeed.
ABOUT:
Cassandra Hill is also the author and illustrator of "It's Your Birthday Shyann!" which teaches children how to say "Happy Birthday!" in 8 different languages and delivers a message of equality via the celebration of multi-cultural birthday traditions. Mrs. Hill travels throughout America enthusiastically reading her book and is also a featured author on the charitable website Moms Helping Schools. View more at http://momshelpingschools.com/products/its-your-birthday-shyann. Sales give back to schools nationwide. Mrs. Hill also gives 50% of profits from her musical download "Change the World Shyann!" to 4 other charities. See full details and blog via her Cassie Land LLC website.
More on Joel Osteen Ministries:
Joel and Victoria Osteen are the pastors of America's largest church and one of the most diverse - the 40,000 strong Lakewood Church in Houston, Texas. Joel Osteen's television program reaches more than 10 million households each week -- one of the largest audiences in the U.S. His program is seen in more than 100 nations across the globe. Joel and his wife Victoria have taken "A Night of Hope" to over 100 cities across America and abroad since late 2004, filling arenas to capacity crowds including Madison Square Garden seven times, totaling more than one million attendees. Joel has been cited by numerous publications as the most influential spiritual figure in America and was named as one of Barbara Walter's most fascinating people. Joel was recently determined one of the most influential people on Twitter in the New York Times. For more information on America's Night of Hope, go to http://www.joelosteen.com/events<http://www.joelosteen.com/events.