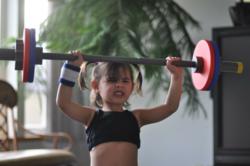 They wanna grow up to be just like you, so let em....
Marysville WA (PRWEB) April 02, 2012
WOD Toys, LLC, a Seattle-based toy company, is set to launch its new line of toys on April 4th, 2012. As part of its effort to showcase quality toys for kids ages 3 and up, the design and management team strategically focused on one objective: to target the fast-growing CrossFit® community in order to harness family-oriented fitness programs.
CrossFit®, a new wave of fitness movement, has significantly increased its following worldwide. A community-focused and family- oriented culture, this revolutionary movement has brought a new perspective in bringing fitness to family members, young and old. "As CrossFit® and its affiliates continue to grow here in the United States and other countries, we at WOD Toys have decided to create lightweight and small-scale versions of famous gym equipment normally used in CrossFit® training, like the Olympic weightlifting barbell, kettlebell, medicine ball and Plyo Box," said Ernest Haekel Ebio, CEO of WOD Toys, LLC. "While these toys are not intended to be used as actual gym or fitness equipment, the concept behind the production is to have children use the toys for fun with the family, especially during parents' exercise time where they can playfully participate," added Ebio.
In addition to advancing family fitness, WOD Toys would like to contribute in the fight against childhood obesity. "The current statistics on obesity is very alarming. We wish to address this problem by producing toys that will encourage children to be more active, but it starts with parents setting the right example," Ebio stressed. In view of this objective, WOD Toys also supports the "Let's Move" initiative of First Lady Michelle Obama in advocating an active lifestyle for children to stop the epidemic of child obesity. This campaign is likewise supported by famous TV host Ellen DeGeneres, who playfully challenged the First Lady to a friendly push-up competition in her show.
In the advent of digital gadgets and hi-tech gaming consoles, WOD toys would like to provide a wise alternative to children in order to inculcate in them the value of health and family. With this development, the company hopes to bring a new level of consciousness to consumers regarding fitness and to advance their advocacy further by producing more toys of this nature.
(CrossFit® is a registered trademark of CrossFit, Inc)