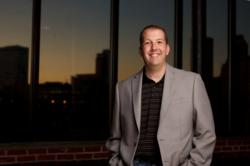 "We've hired Clutch Consulting more than once. Our team at M3 has benefited with quick and long-term ROI. We will hire them again. I recommend business owners, CEO's and start-ups talk to CC!"

– M3 New Media, Tulsa OK
Tulsa, OK (PRWEB) April 04, 2012
Nathan R Mitchell, founder of Clutch Consulting LLC in Tulsa, OK, is a leading business authority and trusted business advisor. According to Mitchell, there are "Seven Fundamentals for Entrepreneurial Freedom & Success," and the first of those is making sure that a business is started for the right reasons.
"Entrepreneurs tend to be happier when they start a business for the right reasons," says Mitchell. "And that includes starting a business to pursue something you are passionate about!"
Since many small business owners start a business to be their own boss, pursue financial independence and a better work/life balance, it might be tempting to think that success is ultimately determined by the thickness of the owner's wallet. However, recent research shows this is not the case.
According to The Hartford's Small Business Success Study, 82 percent of business owners surveyed put a greater emphasis on doing something they are passionate about, versus 75 percent who acknowledge that increasing the business's profitability is very important, thus confirming Mitchell's claim.
"The challenge I find with many of my new coaching and consulting clients is that passion can burn out quickly," says Mitchell. "The first few years of business ownership are a struggle, and it's tempting for owners to be reactive, not proactive in the business. When this happens, I find that many times the business owner finds themselves working 'in the business,' rather than 'on the business,' and the business ends up managing them, rather than the other way around."
The Hartford Study also revealed that 48 percent of business owners describe themselves as "maintenance-oriented," indicating that almost half of business owners are comfortable running their operation at its current size.
"Not everyone is focused on explosive growth," says Mitchell. "Every business owner and entrepreneur I work with has different business and life goals. That's what makes business ownership and entrepreneurship so exciting. It's gives you the ability to focus on what's most important to you!"
For those 52 percent of business owners who are looking for opportunities for increased efficiency and greater profitability in their business, Mitchell offers an Organizational Health Checkup and Automated SWOT Analysis that sheds a beacon of light on a business's strengths, weaknesses, opportunities, and threats.
After analyzing the results, Mitchell works one-on-one with the client to develop strategies that focus on improving areas of the business that are most important to them.
"It's really all about discovery. When you are able to discover what's wrong in an organization, and find strategies for improving on that, while keeping the goals and interests of the business owner in mind, you really have a winning formula," says Mitchell.
Mitchell offers the Organizational Health Checkup and Automated SWOT Analysis for the low price of $1497 (A $2497 Value). This also includes two hours of coaching and consulting with Mitchell to review the results and develop strategies for improvement.
A $247 deposit is required.
To learn more about this exciting opportunity, simply visit: http://offer.winningthegameofbusiness.net
###