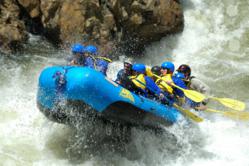 The reunion organizer receives 5% cash back from every reservation made in the group...
Keystone, Colorado (PRWEB) April 03, 2012
With it's beautiful mountain scenery and loads of summer activities such as whitewater rafting, hiking and biking, Keystone Resort is a great place to host a family reunion.
SummitCove Vacation Lodging has close to 300 rental properties in the Keystone area, making it easy to find accommodations for large groups. With the new Rocky Mountain Reunions Rewards program, reunion planners will finally find a simple and easy solution to planning a reunion and even be rewarded for their hard work. In addition to a 10% off discount for every reservation in the group, the reunion organizer receives 5% cash back from every reservation made under the group's custom discount code if the group meets the minimum 10 reservations. The organizer may use this money towards the reunion, for meals or activities, or even use it towards their own trip. In addition to the cash back, the organizer also receives a $200 credit with SummitCove to visit Keystone again in the future. Guests of the program can choose to stay in multiple properties within the same building or village or rent a spacious private home to accommodate larger families under one roof. A dedicated Vacation Planner will work with the reunion organizer to find a custom solution for the group based on budget, size of group, and preferred amenities and location. Each group receives a custom built landing page with the discount built in for ease of booking online. Guests book individually and each receive their own confirmation.
Group activities in Keystone are plentiful; there is sure to be something for everyone. Keystone hosts numerous outdoor festivals throughout the summer in it's main River Run Village Area, including the Blue Ribbon Bacon Tour and the Bluegrass and Beer Festival. Both the Dillon and Frisco Marinas have pontoon boats available for rent, most equipped with barbeque grills, perfect to enjoy a day out on Lake Dillon. Whitewater Rafting is another popular group activity in Colorado that's sure to get everyone's adrenaline pumping. Individual trips vary across several rivers and locations and rafters can enjoy anything from Class II to Class V rapids. It is a fun way to soak up the amazing Colorado scenery and enjoy the bright Colorado sunshine. Or for a free activity, take the family on a scenic hike to enjoy panoramic views and gorgeous hills of brightly colored wildflowers. Every SummitCove Summer Reservation also receives a free two-hour bike rental, perfect to explore the miles of paved bike paths, mountain trails, or can even choose to take a guided 'Ride the Pass' trip down the scenic Vail Pass Area. Many of the buildings in Keystone feature beautiful outdoor pools and hot tubs, along with outdoor barbeques and meeting grounds, perfect for hanging out and relaxing.
Don't stress out when planning that next family reunion. SummitCove Vacation Lodging makes the planning process easy on everyone, allowing guests to truly relax when they arrive in Keystone and fully enjoy their trip and quality family time!