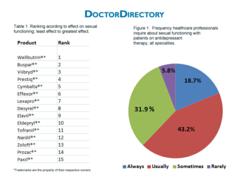 Our study represents an opportunity to bring awareness to the importance of sexual functioning for patients with MDD who are receiving antidepressant therapy.
Asheville, NC (PRWEB) April 03, 2012
Since the mid 1980's, several new medications have been introduced for the treatment of major depressive disorder (MDD) that have greatly contributed to better management strategies. For many years, the select serotonin reuptake inhibitors (SSRIs) have been a mainstay of therapy for patients with MDD; however, as many as 60% of patients on commonly prescribed SSRIs experience sexual dysfunction. Over the past several years, sexual dysfunction has emerged as one of the most frequent adverse effects having an impact on the treatment of MDD, and assessment of sexual dysfunction may be complicated by a patient's reluctance to volunteer information about this side effect and by the fact that depression itself may contribute to the dysfunction. In one clinical study of over a 1,000 patients, only 12% of patients who experienced some form of sexual dysfunction spontaneously reported it. (Montejo-González AL, et al. SSRI-induced sexual dysfunction: fluoxetine, paroxetine, sertraline, and fluvoxamine in a prospective, multicenter, and descriptive clinical study of 344 patients. J Sex Marital Ther. 1997;23:176-194.)
A DoctorDirectory survey of more than 250 healthcare professionals from multiple specialties (psychiatry, internal medicine, family medicine, nurse practitioners and physician assistants) was conducted to determine how frequently healthcare professionals routinely inquire about sexual functioning in those patients treated with antidepressants (see figure 1). In addition, the survey asked healthcare professionals to rank a group of 15 antidepressants with regard to their effect on sexual functioning (see table 1).
Less than 1 in 5 healthcare professionals always inquire about a patient's sexual functioning while on antidepressant therapy with 43% indicating they "usually" ask about this side effect. There were differences by specialty with psychiatrists and NP/PAs more apt to ask about sexual functioning than their FM/IM colleagues.
As to whether all antidepressants are associated with this single side effect equally, responders were asked to rank a group of 15 antidepressants from the major classes, including SSRIs, serotonin norepinephrine reuptake inhibitors, trycyclics, and monoamine oxidase inhibitors. They ranked the list from least effect on sexual functioning to the greatest effect on sexual functioning. Table 1 represents the ranking from all specialties based upon weighted average score.
"Our study represents an opportunity to bring awareness to the importance of sexual functioning for patients with MDD who are receiving antidepressant therapy," said Tom St.Peter, VP of IncreaseRx Marketing at DoctorDirectory.com. "It also emphasizes the need for both the patient and the healthcare professional to openly discuss all side effects regardless of their intimate nature."
About DoctorDirectory.com, Inc.
Since 1996, DoctorDirectory.com's powerful search engine has matched thousands of patients seeking medical services with the right Healthcare Professional. The company also provides Healthcare Professionals the opportunity to participate in Market Research and other programs that help shape the healthcare industry.