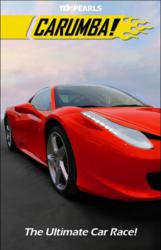 We are proud that TenPearls continues to produce great mobile applications & games. Ultimately, we are able to better serve our customers equipped with diverse technology and domain expertise, especially as it comes to gamification of information
Herndon, VA (PRWEB) April 10, 2012
TenPearls, a global application development outsourcing company focused on mobile, software and game development, announced today the launch of Carumba! a car racing game in 3D.
Carumba! is an exciting car racing game that has been designed and developed by TenPearls' innovation labs. Carumba! is designed for both kids and adults to give them the real experience of car racing. Racers can use their iPhone or iPad to steer and control their cars with precision at high speeds. The first version of this car racing game is developed as a mobile game application for the Apple iOS (iPhone and iPad).
Launched as a free game, Carumba! allows users to earn coins during the race, and redeem them to unlock other cars and tracks or to get additional nitro boosts. Integration with Game Center, Apple's Social Gaming Network, provides users ability to brag about their scored through the Leaderboard. Additionally, Carumba! allows users to personalize the experience through available selection of make and color of their cars, race tracks, background music and background scenery.
"This is a real fun game and it has been a great experience building this mobile game with the team. We believe in constantly challenging ourselves here at TenPearls, and we are proud that TenPearls continues to produce great mobile applications and games," said Zeeshan Aftab, Chief Operation Officer of TenPearls. "Ultimately, we are able to better serve our customers equipped with diverse technology and domain expertise, especially as it comes to gamification of information- a very interesting growth area."
TenPearls plans to launch multi-player mode, where players can race against each other, and schedule their races. There are also plans to launch this game for the Android platform. More information about Carumba!, including a video, is available at: http://www.tenpearls.com/clients/mobile-apps-portfolio/carumba.
Carumba! is available to be downloaded from Apple's App Store for the iPhone and iPad.
About TenPearls
TenPearls is an award-winning, global application development company helping businesses build products. We have successfully delivered solutions spanning mobile, enterprise, web, and games. Our technical strength combined with our experience in usability, agile requirements gathering, iterative development process and commitment to innovation allows us to successfully partner with our customers. Our diverse clientele include start-ups, small & medium sized companies and large corporations.
Contact Information:
TenPearls
13800 Coppermine Road, Herndon, VA 20171
+1-703-234-5330