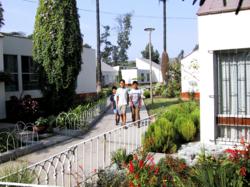 "SOS Children's Villages reflects the issues that resonate with [the Douglas] organization: creating opportunities for children to thrive and nurturing the physical and emotional well-being of children."
-Jennifer Raspanti, Douglas Laboratories
Pittsburgh, Penna. (PRWEB) April 02, 2012
Douglas Laboratories®, the trusted choice of thousands of healthcare professionals for superior quality, science-based nutritional supplements for over 50 years, is joining forces with parent company Atrium Innovations Inc. to positively impact the health of those in need – both locally and globally. The companies recently announced their commitment to SOS Children's Villages as a part of Atrium's Growing Together Program. A key part of Douglas Laboratories' contributions to SOS Children's Villages for 2012 will be the donation of 25 cents per bottle sold of their children's multivitamin and mineral formulas, Ultra Preventative® Kids and Teens.
SOS Children's Villages is the world's largest charity working with orphaned and abandoned children. It serves the needs of children at risk in 133 countries worldwide.
"We selected SOS Children's Villages as our signature cause because it was so well aligned with the values that the employees of Douglas Laboratories find important," says Jennifer Raspanti, Executive Director of Inside Sales and Customer Service, Douglas Laboratories. "SOS Children's Villages reflects the issues that resonate with our organization: creating opportunities for children to thrive and nurturing the physical and emotional well-being of children."
In 2011 Douglas Laboratories, as part of the Growing Together Program, undertook to raise $100,000 toward the construction of Atrium House in the expansion of the Pachacamac village, an existing SOS Children's village in Peru. Through the efforts of its employees and its Growing Together committee, the 2011 goal was not only met but even exceeded. The contribution will fund the full construction and furnishing of a home for up to 10 orphaned children. The Pachacamac village currently houses 57 children, 20 youths and employs eight SOS mothers and also provides a school and arts and athletic programs including dancing, singing, theatre, soccer, and volleyball. As a result of projects like Atrium House, the village is presently undergoing a significant expansion. The Atrium House is expected to be completed by mid-2013.
"It's so uplifting to see our employees coming together for such an important cause," says Timothy J. Monk, Jr., Senior Vice President of Sales & Marketing for Douglas Laboratories. "We're proud to have a hand in the expansion of this village and the lives of these children."
Douglas Laboratories® has participated and executed creative means of raising the funds including "Casual for a Cause" days, bake sales, preferred parking spot drawings, car washes, weekend bowling tournaments, sports polls and in office tournaments, and personal donation encouragements. The Douglas Laboratories team is looking forward to finding new ways to contribute in 2012, such as a successful casino night held in January.
For more information on Douglas Laboratories and Atrium Innovations' Growing Together Program, visit http://www.growingtogetherprogram.com. To become involved on a personal or corporate level, visit http://www.sos-usa.org.
ABOUT DOUGLAS LABORATORIES®
A subsidiary of Atrium Innovations Inc. [TSX: ATB], Douglas Laboratories®, the trusted choice of thousands of healthcare professionals for over 50 years, is at the forefront of the nutritional health industry, proudly researching, developing and manufacturing superior quality, science-based supplements that help people improve their health. Recognized throughout the industry for its uncompromising operational practices at its state-of-the-art, GMP-compliant manufacturing facilities, Douglas Laboratories continues to provide the added insurance of multiple domestic and international GMP certifications, including ISO-9001 Certification and ISO-17025 Accreditation for in-house laboratories, as well as NSF International Registration. Douglas Laboratories currently offers over 600 branded products, and introduces new products on a continuous basis. Working with an experienced research staff of PhDs and a prestigious medical advisory board, Douglas Laboratories is committed to bringing innovative, science-based products to the marketplace. Douglas Laboratories distributes worldwide, with its headquarters located in Pittsburgh, Pennsylvania, USA. For additional information, please visit http://www.douglaslabs.com.
ABOUT ATRIUM INNOVATIONS
Atrium Innovations Inc. is a globally recognized leader in the development, manufacturing, and commercialization of innovative, science-based dietary supplements available mainly through healthcare practitioners and health food and specialized stores. Atrium has over 1,100 employees and operates eight manufacturing facilities. Additional information is available at http://www.atrium-innovations.com
ABOUT SOS CHILDREN'S VILLAGES
SOS Children's Villages is an organization that provides help and hope to more than 78,000 children in 500 villages across 132 countries including the United States. With the help of charitable donations from companies like Douglas Laboratories®, SOS Children's Villages build and maintain safe and stable homes for children who have been orphaned or can no longer grow up in the home of their biological families. Each home built provides shelter for up to 10 boys and girls as well as a live-in SOS House Mother who offers a strong, nurturing family environment for the children.
###