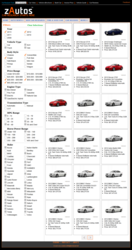 Irvine, CA (PRWEB) April 02, 2012
The zAutos Car Concierge allows car shoppers to select the exact mpg range they desire in their potential new car. Consumers who check the box for 40 mpg or above will see a complete gallery of highly fuel-efficient vehicles, including the 2012 Hyundai Elantra, Kia Rio, or Chevrolet Cruze Eco. Shoppers can click one of these or a few dozen more vehicles that fit the criteria.
By clicking on a match, viewers have access to over 80 images of the car, complete pricing information, a list of standard and optional features, color choices, and informative videos. Also on this page, viewers will see fuel and safety stats and find matching cars for sale in their area.
In addition to searching for the most fuel-efficient cars, the Car Concierge also allows users to find the right car based on a number of other criteria. Consumers can also tailor their search by selecting their desired price range, fuel type, transmission type, horsepower, year, and vehicle make. As many or as few of the criteria can be selected to narrow down or expand a search.
The new Car Concierge tool takes the stress out of searching for a new vehicle by guiding consumers through each step of the process. By using the tool, consumers will be better equipped to make the right selection on their next vehicle. The Car Concierge can be found under the New Car Research tab on zAutos.com.
zAutos.com also offers consumers over 4,000 informative car videos, 10,000 vehicle eBrochures, and dealer quotes to kick start their research on new vehicles. Visitors to the site can customize their own vehicle with the Build a Car application or search for over one million pre-owned cars for sale with the used car search tool. The site also provides current auto news and in-depth car reviews. The newly-launched Car Concierge is the latest tool that has helped establish zAutos as a leader in the consumer car research field.