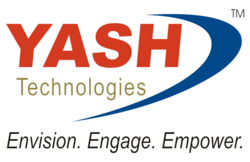 As CIOs seek to improve service quality, efficiency and reduce overall risk, anytime availability of quality support is a critical necessity
East Moline, IL (PRWEB) April 13, 2012
YASH Technologies, a leading technology services and outsourcing partner for global companies, today announced the launch of its shared services portfolio of application management services for SAP® solutions. Designed specifically for small and midsize enterprises (SMEs), YASH now offers three flexible shared services models for application management to meet the specific needs of these companies, keeping costs of supporting and maintaining SAP applications as cost effective as possible.
SME customers may not need dedicated, full-time teams to support their systems. YASH's shared services models provide competitive advantage to these companies by utilizing a centralized pool of highly talented and experienced SAP consultants specifically trained for supporting SAP systems. By tapping into a common pool, the cost of support is considerably reduced and is limited to an as-used basis.
Global clients are able to select from three different levels of support:
--Standard: Covers support for all core functional modules of SAP along with ABAP and basis. Support includes regular production support and minor enhancements on an 8X5 basis.
--Premium: Covers advanced modules and topics on SAP functional, technical, and basis. Support includes guaranteed service-level agreements (SLA) and is covered on a 16X5 basis.
--Platinum: Covers end to end support of all the SAP systems on a 24X7 basis. Includes onsite/offsite support with comprehensive SLA's and KPI's. Includes flexible and cost-effective support structure that will cater to unique support requirements.
As an SAP partner and SAP-certified global provider of application management services, YASH brings predictable value leveraging best-in-class procedures, processes, templates and reporting mechanisms, laying a strong foundation for comprehensive solution management.
"A competitive advantage for customers that leverage our shared services program is the 24 x 7 x 365 availability of full remote support," said Giri Raju, YASH's delivery director for US operations. "As CIOs seek to improve service quality, efficiency and reduce overall risk, anytime availability of quality support is a critical necessity."
YASH also offers Core Application Management Services for large enterprises that includes cost-effective support and maintenance of routine application management activities as well as full outsourced management of an SAP solution-based landscape.
For more information, please visit http://www.yash.com or email info(at)yash(dot)com.
ABOUT YASH TECHNOLOGIES
YASH Technologies focuses on customer success. As a leading technology services and outsourcing partner for medium and large global customers, we leverage technology and our flexible delivery models to drive performance and business value throughout a customer's enterprise. This comprehensive service approach incorporates a holistic view of our customers that extends beyond delivery. This approach integrates enterprise solutions and services, proprietary best practice offerings, strategic application and maintenance outsourcing, as well as consulting and integration services. YASH is a SEI CMMI (Level 3) and an ISO 9001:2008 certified company with U.S. and India headquarters and regional sales and development offices spread across three continents. YASH is also part of a select group of companies that are SAP -certified global providers of application management services. For more information, please visit http://www.yash.com or email info@yash.com.