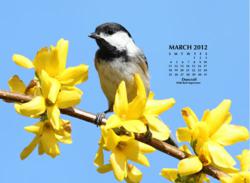 Duncraft's March calendar got over 3,000 hits, so it's definitely something our customers enjoy--and we're very happy to provide it for them--Michelle Story, Duncraft Communications Manager
Concord, NH (PRWEB) April 03, 2012
Duncraft customers love their birds and now they can download a new desktop calendar each month with a beautiful bird image from Duncraft's website, http://www.duncraft.com, and it's absolutely free.
In March, Duncraft offered two versions of their desktop calendar and both were hits! Customers could choose from images of a Red-winged Blackbird singing from a tree branch with spring-like buds or a beautiful chickadee perched on a colorful forsythia bush.
Each month's calendar is seasonally appropriate and brings the outdoors in to anyone sitting at a computer screen instead of enjoying the great outdoors. Duncraft includes easy instructions on how to set the image as a desktop background.
April's new calendar is choice of a lovely female cardinal or a colorful oriole, both of which Duncraft is sure their customers will love. And judging from the response they received for the March calendar, Duncraft is confident their customers will enjoy looking forward to their new calendars each month for years to come! Be sure to stop by Duncraft's site and check it out! Just scroll down the left navigation bar and click on Desktop Calendar.
Founded in 1952 and located in Concord, New Hampshire, Duncraft's objective is to bring the joy of backyard birding to wild bird lovers all across the country. Mike Dunn, owner and CEO is constantly inventing and searching for innovative ideas in bird feeding—giving bird lovers years of bird feeding enjoyment, success and satisfaction.
Duncraft Wild Bird Superstore
102 Fisherville Road
Concord, NH 03303
Phone: 603-224-0200
Fax: 603-226-3735