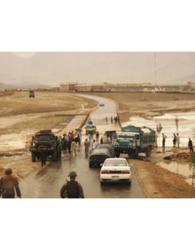 Preventive Stabilization: Identifying and Replicating Success
Arlington, VA (PRWEB) April 02, 2012
Tom Ridge, the first Assistant to the President for Homeland Security and the first Secretary of the U.S. Department of Homeland Security, is scheduled to speak on "Global Leadership and the Use of Smart Power" at the 2012 Stability, Security, Transition and Reconstruction Operations (SSTRO) Conference, scheduled for June 18-19 at the Ritz Carlton Pentagon City.
Tom Ridge, twice-governor of Pennsylvania and a Vietnam Veteran, became the first Assistant to the President for Homeland Security following the tragic events of September 11th, 2001, and, on January 24, 2003, became the first Secretary of the U.S. Department of Homeland Security.
This year's SSTRO Conference, whose theme will be "Preventive Stabilization: Identifying and Replicating Success," will look at stability efforts through the entire spectrum. We'll look at completed operations that show successes that are being replicated in other situations, current trouble spots, and what we can expect in the future:

Although Afghanistan and Iraq will continue to be of tremendous importance and considerable challenge, there are other countries which are also undergoing profound transitions and for whom political and resource-based attention will make a significant difference in terms of their stability and well-being. Sudan and the overall Middle East and North Africa (MENA) region are prime illustrations.
There are also some countries that have successfully emerged from protracted civil war and deeply entrenched insurgency, like Liberia and Colombia, for example, based on the concept of expanded partnerships. In these instances, it was the U.S. inter-agency coordination and collaboration, along with public-private sector cooperation, and cooperation with and between the host country governments and stakeholders that enabled sustained engagement and success.
This year's conference will also explore the policies, programs and practices that helped Liberia and Colombia transform into more stable, peaceful, prosperous and resilient states. Identifying and replicating lessons and good practices from these success stories will hopefully contribute to whole of government/whole of society approaches toward preventing and responding to crises, conflict, and other enablers and rivers of instability in our other two panels, Sudan and the MENA region.
More About Tom Ridge: Before the events of September 11th, 2001, Tom Ridge was twice elected Governor of Pennsylvania. He served as the state's 43rd governor from 1995 to 2001. Known for his commitment to high standards and results, Governor Ridge delivered on his promise to make Pennsylvania "a leader among states and a competitor among nations." Governor Ridge's aggressive technology strategy helped fuel the state's advances in economic development, education, health care and the environment.
Tom Ridge was elected to Congress in 1982. He was one of the first Vietnam combat veterans elected to the U.S. House of Representatives and was overwhelmingly re-elected by Pennsylvania voters five times.
Since re-entering the private sector, Ridge has served on the boards of The Home Depot, The Hershey Company and Exelon Corporation and as a senior advisor to Deloitte & Touche, and TechRadium. Ridge is also the founder and CEO of Ridge Global, LLC, a Washington, D.C. based security consulting firm.
Governor Ridge serves on the boards of the Institute for Defense Analyses, the Center for the Study of the Presidency and Congress and other private and public entities, and since 2005, has served as chairman of the National Organization on Disability. Secretary Ridge continues to contribute to matters concerning our nation's veterans and, along with Gen. Tommy Franks (Ret.), serves as national co-chairman of the Flight 93 Memorial Fundraising Campaign.
About NDIA: The National Defense Industrial Association (NDIA) is America's leading Defense Industry association promoting national security. NDIA provides a legal and ethical forum for the exchange of information between Industry and Government on National Security issues. NDIA members foster the development of the most innovative and superior equipment, training and support for warfighters and first responders through our divisions, local chapters, affiliated associations and events.