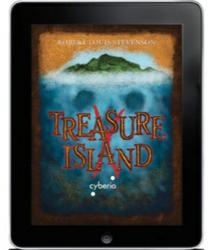 Treasure Island thoughtfully integrates illustration and gestural exploration, reinventing a classic story for iPad. What kid wouldn't want to read this?
—David Wright, Judge
Santa Monica, California (PRWEB) April 02, 2012
Treasure Island by cyberia, an animated interactive children's book for iPad, has won the prestigious Communication Arts 2012 Interactive Award for Best Interactive Entertainment of the Year. This unique take on Robert Louis Stevenson's classic children's story has also won an American Design Award from GDUSA, and has been featured by Apple, in its app store, as "New & Noteworthy."
Treasure Island by cyberia is one of only 35 projects selected globally to represent the year's advances in interactive and visual design. It was chosen as one of the nine best interactive entertainment projects of the year. Half of its 90 pages are interactive experiences, narrative animations and activities.
We wanted the story to reign supreme, so we cut the text from 70,000 words down to 4,000 and updated the adventure, dialogue and characters for an international audience of all ages. The app's look and feel are inspired by graphic novels, illustrated children's books, cinema, literature and interactive media interwoven with three types of sensory narrative: illustration, cinematic animations and push, pull, drag and spin interactivity; the sound and effects bump the user experience into hands-on cinema, with the openness of a game. Our goal was to create an original experience for a classic tale. We think Robert Louis Stevenson would be thrilled.
Communication Arts is the largest creative magazine in the world. It is the leading trade journal for visual communications. Since 1959, to find the best work, Communication Arts has sponsored creative competitions that recognize the finest talent in the industry. Winners are selected by juries of their peers and featured online and in print. Being recognized by Communication Arts is one of the most distinguished honors in the industry.
Here's what the judges said:
"Great use of interaction to bring life to a book. I'll be downloading this for my kids."
—Kim Rees, Judge
"Treasure Island thoughtfully integrates illustration and gestural exploration, reinventing a classic story for iPad. What kid wouldn't want to read this? ."
—David Wright, Judge
cyberia media is a design and digital media studio focused on the business of content and creativity. Founded in 1993 by director/artist Richard Levine (The Smiths, Nike), cyberia has worked for some of the largest brands in the world. It is a company known for its intelligence and visionary creative, as well as its ability to tell a client's story in all media for audiences of any size. We tell your story. Video. Motion Graphics. Mobile. Print. ID. Events. Experiential Marketing. iPhone. iPad.
"A rousing abridgment of the classic tale is buoyed by atmospheric sound effects and hearty digital surprises." — Kirkus Reviews
"This app showcases how iPads can bring books to life while still maintaining the reading experience." — GiggleApps.com
The Communication Arts 2012 Interactive Annual is available in print and online at commarts.com.
The book is available in the Apple App store.
Watch the trailer to preview the interactivity and animations.
please visit us at cyberia media