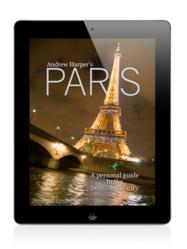 Don't think of it as an all-inclusive guidebook," said Andrew Harper, "so much as a hand-drawn map of the best of Paris.
Austin, TX (PRWEB) April 24, 2012
Andrew Harper's Hideaway Report, the most respected publication in luxury travel, today announced the arrival of "Andrew Harper's Paris," a new app for the iPad. Designed for the sophisticated traveler, it offers an informed and opinionated selection of more than 350 of Andrew Harper's favorite hotels, restaurants, shops and attractions. A host of maps and photographs help to make the app as practical as it is inspiring.
The app is now available in the iTunes store, and is free of charge. Highlights include:
HOTELS
Andrew Harper made his reputation with candid hotel reviews, and here he profiles his 14 favorite Parisian properties, from grand palace addresses to intimate Left Bank alternatives. Entries feature his personal insights on room selection, dining choices and notable hotel features. They also include links to exclusive Harper member privileges and rates.
DINING
Mr. Harper profiles 103 of his favorite restaurants, from grand haute cuisine dining rooms to friendly neighborhood bistros. Featured categories include brasseries, wine bars, modern cuisine and romantic favorites. Each entry features specific menu recommendations, as well as comprehensive service and contact details.
SHOPPING
The shopping section features a smartly edited collection of 113 boutiques, salons and markets, all worthwhile travel destinations in their own rights. This choice selection includes fashion salons, beauty spas, art galleries, fine art studios, bookstores, and food and wine specialty stores. All shopping entries feature maps, contact details, opening hours and personal recommendations.
TOURING
Mr. Harper offers his advice on the best way to visit the major attractions, but focuses most of his attention on the small gems of Paris: intimate museums, neighborhood gardens, walking tours and a list of his own iconic Parisian experiences. Recommended day trips and overnight excursions are also detailed, as are suggestions for visitors with children.
About Andrew Harper
Free of advertising since its inception in June 1979, Hideaway Report is a private monthly publication for sophisticated travelers. The selection of hotels, resorts and restaurants for inclusion in this publication is made on a completely independent basis, with Andrew Harper LLC paying full rate for all meals, lodging and related travel expenses. Andrew Harper and his editors travel incognito to write candid and unbiased travel reviews for a membership service, which provides personalized travel-planning assistance, bespoke tours and valuable travel privileges to its members.