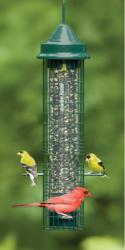 Customers love our contests and drawings--the Shopping Spree is very popular!--Deb Cressy, Customer Service Representative
Concord, NH (PRWEB) April 05, 2012
According to Duncraft, customers are always letting them know about their wish lists—great bird feeding items they would love to have when the budget allows or items they are saving for. Duncraft's Shopping Spree gives two lucky customers the opportunity to have exactly the products they've been wanting.
One popular product that most customers can't wait to get their hands on is the best-selling Squirrel Buster Classic. Almost every past winner has chosen this feeder or the Squirrel Buster Plus Feeder as one of their shopping choices. Also available are the Squirrel Buster Mini, Squirrel Buster Finch and now the Squirrel Buster Peanut feeders. Duncraft highly recommends all these feeders because they're really squirrel-proof and the manufacturer, Brome Bird Care really stands behind the product—as does Duncraft. Duncraft is urging all their customers to enter this summer's drawing and also to tell all their friends. Someone's got to be the lucky winner—and even if they don't choose a Squirrel Buster, they're sure to find the bird feeder of their dreams from Duncraft's great selection of products.
Founded in 1952 and located in Concord, New Hampshire, Duncraft's objective is to bring the joy of backyard birding to wild bird lovers all across the country. Mike Dunn, owner and CEO is constantly inventing and searching for innovative ideas in bird feeding—giving bird lovers years of bird feeding enjoyment, success and satisfaction.
Duncraft Wild Bird Superstore
102 Fisherville Road
Concord, NH 03303
603-224-0200