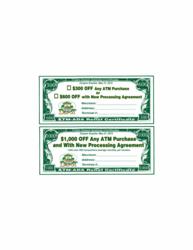 The All in One ATM Stop
Green Bay, WI (PRWEB) April 01, 2012
The new ATM - ADA requirements pertain to the open floor space in front of an ATM. This is the responsibility of the property manager, or merchant, regardless of the arrangement made with Cash Depot or another ATM provider. It is the merchant's responsibility to ensure the proper legal requirements for wheelchair access. These requirements are on the Cash Depot main website: http://www.cashdepotplus.com, plus the sales website: http://www.cashdepotatm.com, and on the federal ADA websites: http://www.ADA.gov, and must be adhered to according to the Department of Justice (D.O.J.).
Cash Depot is a privately owned, independent full service ATM Provider focusing on merchants and financial institutions. We are one of the few companies in our industry that provides In-House Processing resulting in the fastest possible transactions. We sell, lease, rent, service and support ATMs in the most efficient way maximizing profitability and customer satisfaction.
If you have any questions or concerns about ADA Compliance, please call us at 1-800-776-8834.
Cash Depot - Your One Stop ATM Provider
1740 Cofrin Drive Suite 2
Green Bay,WI 54302
1-920-432-5777
1-800-776-8834
http://www.cashepotplus.com
http://www.cashdepotatm.com