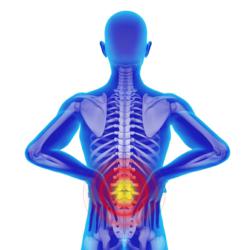 This stem cell injection study that has the potential to provide a ground breaking option for low back pain.
Phoenix, AZ (PRWEB) April 06, 2012
Regenerative medicine is the future of pain management, and a new stem cell injection study is under way at a leading pain clinic in Arizona, Arizona Pain Specialists. The new FDA clinical trial is underway for low back pain patients suffering from degenerative disc disease. Individuals who are dealing with chronic low back pain due to degenerative disc disease may be a candidate for the study.
Said David Greene, MD, owner of the nationally recognized website PreferredPainCenter.com, "Almost all treatments to date in Arizona pain management focus on the proverbial 'band-aid' with steroid injections. They work, but nothing gets fixed. The pain management doctors at Arizona Pain Specialists are conducting a stem cell injection study that has the potential to provide a ground breaking option for patients with chronic low back pain needing an AZ pain center. Kudos!"
Currently, nonsurgical options for degenerative disc disease are limited. Patients may get some relief with over-the-counter medications or short-term narcotics. Additionally, treatment with a Phoenix chiropractor may bring some relief along with physical therapy. However, interventional pain management treatments at this point are limited. The success of procedures inside the disc for degenerative disc disease causing low back pain have not shown great outcomes.
For this reason, the study is a very exciting one. Regenerative medicine has the potential to help repair degenerative discs, as opposed to simply masking pain and having pain relief wear off in short order. According to the study's funding company, Mesoblast, "Mesoblast will build on outstanding preclinical trial results which showed that a single low dose of Mesoblast's allogeneic adult stem cells into severely damaged intervertebral discs resulted in dramatic reversal of the degenerative process, regrowth of disc cartilage and sustained normalisation of disc pathology, anatomy and function."
Therefore, having a treatment that may in fact help regenerate some of the disc material and provide pain relief at the same time is a cutting age, groundbreaking opportunity for Arizona Pain Specialists' patients.
Enrollment in the clinical trial is ongoing and is currently open. There is a rigorous inclusion criteria and patients who are accepted into the study will undergo a randomization process. This means that half of the patients will receive the stem cell injections, while the other half will receive what is known as a placebo.
Interested individuals should call today at 602-507-6550 to schedule appointments.