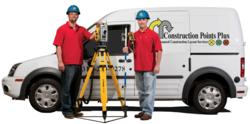 Construction Points Plus can lay out 600 points a day compared to about 100 a day we would do manually.
Cory Gideo, Project Manager, Slifco Electric
Detroit, MI (PRWEB) April 11, 2012
Construction Points Plus, an innovative new service that quickly and accurately lays out points on jobsites, was awarded work to lay out thousands of points at the Ford Lima Engine Plant Renovation Project currently under way in Lima, Ohio.
"The Construction Points Plus team is extremely fast and accurate," said Cory Gideo, Project Manager for Slifco Electric. "They can lay out 600 points a day compared to about 100 a day we would do manually."
Using BIM technology, the team locates points on the project for mechanical pipe hangers, air handling units, high voltage cable trays, hangers for ductwork and light fixtures. They can also assist in verifying the locations of shafts, walls and openings.
"The speed and accuracy of this BIM-to-field method was beyond paperless," said John Tauchus, Sr. BIM Integration Manager for Ghafari, the site engineer. "It was more like 3D-to-install. This is the future."
On this project, Construction Points Plus is laying out points for three contractors: Ventcon, HVAC; Slifco Electrical; and Smith-Boughan, Mechanical.
The work of Construction Points Plus is scheduled to be completed at the end of April.
About Construction Points Plus
Construction Points Plus is revolutionizing how commercial, industrial, and residential jobsites are laid out. Using BIM technology, we locate and mark the exact locations for hangers, inserts, and sleeves. Our service saves time, money, and is far more accurate than manually laying out points. For more information, visit our website or call Nathon at (313) 220-0278.
About Capital Letters
Capital Letters is a business-to-business marketing company headquartered in Ann Arbor specializing in the commercial and industrial construction industry. Chris Hippler is the President and leads a team that focuses on getting results for clients through the strategic use of online and print communications. Visit our website or call Chris at (734) 353-9918
CONTACT
Capital Letters
Chris Hippler, (734) 353-9918