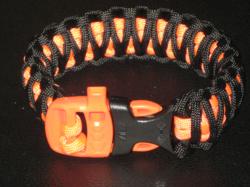 Don't be caught short!!
Lexington, Kentucky (PRWEB) April 03, 2012
Fort DeTroyon Survival manufactures and stocks over 70 different colors and styles of survival bracelets. They hand make all of their Survival Bracelets using Type III commercial grade parachute cord manufactured by licensed U.S. government contractors. The options available are virtually limitless. Fort DeTroyon Survival offers survival bracelets with a variety of buckle choices to include whistle buckles as well as a variety of of colored buckles. In addition Fort DeTroyon Survival also manufactures top quality dog collars from paracord with heavy duty 5/8th inch buckles and one piece nickel D rings for your best buddy.Para-cord has myriad uses for the outdoor enthusiast. It can be used to make a bow, a fire starter, snare, fan belt, fishing line, belt and much more. Keep paracord at hand by keeping it on your wrist or having your best friend carry it on his neck.