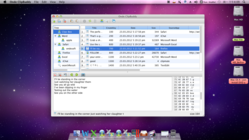 (PRWEB) April 05, 2012
More like a personal assistant than just a clipboard, Onde ClipBuddy makes saving, organizing and finding digital clippings easier than ever. The simple and intuitive interface groups all of the clippings in fully customizable Text Trees, helping to sort out the clutter and making finding clippings a breeze. And the best part about ClipBuddy? Pictures, whether they're embedded in the text or standing on their own, work just like text. Just copy and paste. ClipBuddy even saves metadata for each clipping, recording the date created, what program it came from, and the web URL where it was found. More organized than a pesky mother and probably a bit nicer to work with, Onde ClipBuddy is the must have clipboard app for any Mac user.
Designed in order to take the hassle out of multiple cut-and-paste actions, Onde ClipBuddy is full of handy features that help streamline and simplify the process of saving digital clippings. For example, ClipBuddy allows the user to name each clipping, making classifying and identifying multiple clippings easy and effective. And coupling the organization of the Text Trees with the in-program search feature means that those old clippings will never get lost again.
The preview window is incredibly helpful as well; it not only lets the user see the selected clipping, but also allows for editing and modification of the clipping right in the window itself. Modify text with options that change the text case, remove punctuation, and even automatically find and replace specific words. Pasting clippings from ClipBuddy can be done either with the original formatting left in tact, or simply as plain text. And with the new Super Paste function, one can easily paste multiple clippings together in a loop, as well as automatically merge them while removing any unwanted punctuation.
But, the key question about any clipboard application is: can it work without getting in the way? And the answer regarding Onde ClipBuddy is most definitely yes. Prefer to have ClipBuddy work behind the scenes? Set ClipBuddy to always run minimized and use the toolbar shortcut for the majority of tasks. Want to keep an eye on the window without it being too distracting? Simply turn down the opacity with the transparency settings and enjoy having access to all of the clippings without an overly obtrusive display. And, for the user who feels
For more please visit:http://www.ondesoft.com/clipbuddy_mac/index.html