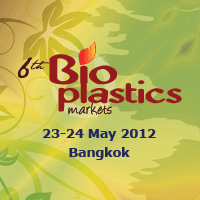 The extraordinary growth of this industry in recent years and future project opportunities are the main highlights at CMT's 6th Bioplastics Markets conference to be held on 23-24 May, 2012.
Bangkok, Thailand (PRWEB) April 03, 2012
A continual and increasing trend in environmentalism has boosted growth in bioplastics within Asia. The rising number of companies involved, new innovative products and expanding production capacities not only affirm bioplastics rise in Asia but augur well for Thailand's plan to be a bioplastics hub!
The extraordinary growth of this industry in recent years and future project opportunities are the main highlights at CMT's 6th Bioplastics Markets conference to be held on 23-24 May, 2012. The 1.5 day event in Bangkok, themed "Future of Bioplastics, its New Generation Feedstocks and Emerging Applications!" aims to provide comprehensive overview on development of sustainable feedstock supply in bioplastics, emerging sources of plant-based sugar/starch feedstock in Asia, development & progress of bioplastics market in Asia and many more.
Supported by PTT Global Chemical (PTTGC) as the official Host and Reception Sponsor, the program boasts an unrivalled panel of experts presenting informative plenary sessions including a keynote address by a senior executive from PTTGC.
In addition to a specially arranged Panel discussion examining Brand-owners' experience and plans with sustainable feedstock and bioplastics applications, the rest of speaking panellists are slated to offer detailed analysis on:

BioRefining Concept: Converting Sugar Based Feedstock to Fuel Ethanol & BioPlastic by Mr. Ulric Seah, Manager, Application Development, Sulzer Chemtech Pte Ltd
Cassava - Emerging Sources of Plant-based Sugar/Starch Feedstock in Asia by Dr. Klanarong Sriroth, Project Leader, Kasetsart University
100% Biobased PET: A Sustainable Approach to Fiber, Film, and Bottles by Mr. Gregory Keenan, VP Business Development & Engineering, Virent Energy Systems, Inc
Bio-succinic Acid: How to Convert CO2 into Value-added Chemicals by Mr. Patrick Piot, Vice-President, Business Development, BioAmber Inc.
Macro-Economic Outlook and Expected Growth in Asia by Mr. Rajiv Biswas, Senior Director and Asia-Pacific Chief Economist, IHS Inc
Bioplastics Market Development in India by Mr. Deepak Sanghvi, Director, Greendiamz Biotech Ltd
Development & Progress of Bioplastics Market in Asia by Mr. Daniel J. Sawyer, Managing Director Asia Pacific, NatureWorks LLC (HQ)
Worldwide Market Potential of Biobased PBS by Mr. Shigeaki Yamane, VP, Manager - Marketing, PTT MCC Biochem Co., Ltd
Market Outlook & Growth Potential for Biobased Nylon, Plans Ahead and Updates on Arkema's Acquisition of the Biobased Production/Supply Chain by Senior Representative,Arkema China
Developments in Bioplastics Demand & Trends in Japan by Mr. Hiroyuki Mori, Executive Head, Japan Society of Biomass Industries (JSBI)
Potential of Bioplastics Market in Turkey by Mr. Aydemir Esencan, CEO, Gama Plastik/ Gama Petrochemicals Pte Ltd
Developments in Biomass Flexible Packaging in Japan by Mr. Kenji Sakae, R&D Manager, TOPPAN PRINTING CO LTD
Biopolymers in Film Production by Mr. Karl Zimmermann, Sales Director, Bruckner Technology Holding GmbH (HQ)
Reactive Extrusion Modified PBS and PLA for Meltblown Nonwoven Applications by Dr . James Wang, Research Technical Leader, Kimberly-Clark Corporation
Substantiating of Claims by Mr. Bruno De Wilde, Lab Manager, Organic Waste Systems (OWS) NV
The conference expects to welcome participation from Bioplastics producers/suppliers, brand owners, retailers, processors, converters, financial & academic institutions, machinery suppliers from Asia and beyond. As a matter of fact, CMT has also incorporated the 2nd BiobasedChem Asia conference alongside this event just so to bring and enable the entire Bio based industry supply chain to come together for a complete networking and knowledge sharing experience at one venue - Bangkok.
To access full agenda of 6th Bioplastics Markets visit the event's website and for reservations please contact Grace at (65) 6346 9147.