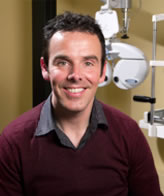 The internet is a great way of sharing knowledge and our Ask the Optician service is proving extremely popular. People need health advice that they can trust.
London, London (PRWEB UK) 3 April 2012
Eye health is an important issue, which is why Specsavers is offering a question-and-answer service online. Britain's most trusted optician* offers an interactive Ask the Optician system, providing invaluable information and advice to web users.
Visitors to http://www.specsavers.co.uk/ask-the-optician/ can post a question to a qualified optometrist and receive a response within a few days. All queries are answered via email, with some being selected to join the Q&A library, which provides a bank of detailed responses to previously asked questions. Both written and video answers are available and explanations are clear and concise.
A spokesperson for Specsavers says: 'Our vision is probably the sense that we value the most, so it's only natural for people to have questions or worries about their eye health. This service means they can email an optician at any time and can also book an eye test online.
"The internet is a great way of sharing knowledge and our Ask the Optician service is proving extremely popular. People need health advice that they can trust."
Despite the success of this revolutionary question and answer service, Specsavers is keen to point out the importance of regular eye examinations. The College of Optometrists recommends that people have an eye test at least once every two years, to check for any abnormalities.
-Ends-
Issued by Beattie Communications on behalf of Specsavers
Specsavers notes to editors

Specsavers was founded by Doug and Dame Mary Perkins in 1984 and is now the largest privately owned opticians in the world. The couple still run the company, along with their three children. Their son John is joint managing director.
Specsavers has more than 1,600 stores throughout the UK, Ireland, the Netherlands, Sweden, Norway, Finland, Denmark, Spain, Australia and New Zealand.
Annual turnover for the Specsavers Group was £1.5 billion for 2010/2011 and is forecast to reach £1.6 billion in 2011/2012.
7.6m customers used Specsavers in 2011 – more than in any other year.
Specsavers Optical stores and hearing centres are owned and run by joint venture or franchise partners. Together, they offer both optical and hearing services under one roof.
Specsavers employs more than 26,000 staff.
Specsavers was voted Britain's most trusted brand of opticians for the tenth year running by the Reader's Digest Trusted Brands survey 2011.*
More than one in three people who wear glasses in the UK buy them from Specsavers** - 10,800,000 glasses were exported from the warehouse to stores in 2011.
Specsavers was ranked No 1 for both eye tests and glasses in the UK**.
Specsavers is the largest retail provider of home delivery contact lenses in Europe and one of the top two retail suppliers of continuous wear lenses in the world.
Specsavers is now the largest retail dispenser of digital hearing aids in the UK and offers a hearing service from more than 400 locations.
Specsavers supports numerous optical and hearing charities, including Guide Dogs and Hearing for Deaf People. During its three-year support for Diabetes UK it raised more than £250,000 to fund various projects.
Since 2003 more than a quarter of a million glasses have been collected and recycled by Specsavers stores for Vision Aid Overseas, for use in developing countries. Specsavers has raised over £370,000 for the charity since 2006, with almost £250,000 going towards its work in Zambia.
**GfK NOP