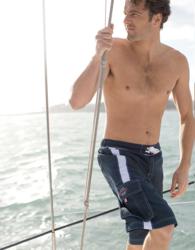 (PRWEB UK) 2 April 2012
As warm weather engulfs the British Isles, thoughts of winter coats and hot chocolates are banished from mind, and replaced with thoughts of summer sun, Piña coladas and beach holidays.
This week has not only seen the start of British Summer Time (BST), but also some of the hottest weather ever recorded in some parts of the UK. The British public absolutely revelled in it, with thousands flocking to sea-side destinations Bournemouth Beach and Swansea Bay to name just a few. This unprecedented early warm spell has got everyone thinking about where to go away this summer, and in conjunction with the upcoming launch of the new Summer range, the friendly team down at Crew Clothing are offering the opportunity to win a one-week, luxury holiday for two to South Africa. This 5 night bed and breakfast trip will involve being whisked away courtesy of South African Airways, and submerged deep into the luxury of a deluxe suite at the 'Cape Royale- Luxury Hotel and Spa', Cape Town.
Once there, the options are plentiful. Choose to sit back and relax in the 5* resort's private facilities, explore South Africa's second largest city, take the scenic cable car to the world renowned Table Mountain, or just simply watch South Africa pass by from the V&A Waterfront.
In order to enter this incredible competition, just pop into the nearest Crew Clothing store, and fill out an entry card. While there, why not have a browse through the new summer apparel featuring bold and bright turquoise, pinks and yellows, as well as floral prints for the girls, and rich aqua blue, yellow, strawberry and lime for the boys.
The competition runs from the 1st April 2012, and last entries must be made by midnight on the 8th May 2012.
For more information pop in-store and the Crew Staff will be happy to help out, or look up Crew on Facebook or Twitter:
https://www.facebook.com/crewclothingco
https://twitter.com/#!/Crew_Clothing
Address
Crew Clothing Co.
20 Lydden Road
London
SW18 4LR
Press Contact
Georgie on 020 8875 7202 or email press(at)crewclothing(dot)co(dot)uk
About Crew Clothing Co.
Crew Clothing started out in Salcombe in 1993, when founder Alastair Parker-Swift was running a thriving windsurfing business during the summer months. Seeing an opportunity to help fund his lifestyle Alastair sourced some navy and white rugby shirts, applied an original 93 patch to create our heritage shirt. After only 10 days trading and instant success Alastair made the decision to find premises in Cowes for the start of Cowes Week. From this, the Crew Clothing brand was born.
Crew Clothing designs premium casual wear for men, women and children - truly passionate about clothing made from quality fabrics, great attention to detail and design that offers an effortlessly relaxed style. The pride in its coastal roots is clearly reflected today in Crew's product, stores and branding.