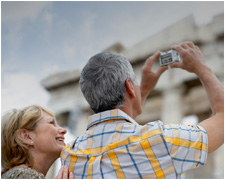 Eating the right antioxidants and vitamins will help to neutralise potentially cell-damaging molecules called 'free radicals' which are thought to harm the eye's lens and macular.
London, United Kingdom (PRWEB UK) 4 April 2012
Consuming too much beef, lamb and pork can increase the chances of developing Age-Related Macular Degeneration (AMD), according to a study conducted by The Royal College of Ophthalmology.
AMD affects around two and half million people a year and can result in blindness but the study showed that it can be preventable, through better eye care and diet. In response,Specsavers, Britain's most trusted optician*, has developed a special healthy eyes diet to raise awareness of the importance of food for every aspect of our health.
Paul Carroll, director of professional services at Specsavers Opticians, says: 'The right diet is particularly beneficial in protecting the macular, an area of the retina, from the effects of oxidation, which causes gradual wear and tear to the cells in the eye. This is the part of the retina that gives us our most acute and detailed vision for tasks, such as reading, recognising faces and watching television, so it is important to protect it.'
Foods which contain high levels of the antioxidants – beta-carotene, lutein and vitamins C and E – appear to reduce the risk of developing the condition. Foods such as pepper, broccoli, sweet potatoes, citrus fruits and dark green leafy vegetables, like spinach and kale, are rich in these antioxidants.
Mr Carroll continues: 'Eating the right antioxidants and vitamins will help to neutralise potentially cell-damaging molecules called 'free radicals' which are thought to harm the eye's lens and macular. So for your health and your eyesight's sake, enjoy a variety of fruit, vegetables and wholegrain every day.'
Specsavers' foods to feast your eyes on are: chicken, carrots, leafy vegetables, peppers, broccoli, brussels sprouts, pumpkin, yams, squash and sweet potatoes, apricots and citrus fruits, sardines and nuts.
In addition to following a healthy diet, the College of Optometrists recommends that you have an eye test every two years. Specsavers offers state-of-the-art technology as part of its standard eye examination and offers a wide range of corrective options to suit all needs.
Issued by MEC on behalf of Specsavers
Specsavers notes to editors:

Specsavers was founded by Doug and Dame Mary Perkins in 1984 and is now the largest privately owned opticians in the world. The couple still run the company, along with their three children. Their son John is joint managing director.
Specsavers has more than 1,600 stores throughout the UK, Ireland, the Netherlands, Sweden, Norway, Finland, Denmark, Spain, Australia and New Zealand.
Annual turnover for the Specsavers Group was £1.5 billion for 2010/2011 and is forecast to reach £1.6 billion in 2011/2012.
7.6m customers used Specsavers in 2011 – more than in any other year.
Specsavers Optical stores and hearing centres are owned and run by joint venture or franchise partners. Together, they offer both optical and hearing services under one roof.
Specsavers employs more than 26,000 staff.
*Specsavers was voted Britain's most trusted brand of opticians for the tenth year running by the Reader's Digest Trusted Brands survey 2011.
More than one in three people who wear glasses in the UK buy them from Specsavers** - 10,800,000 glasses were exported from the warehouse to stores in 2011.
Specsavers was ranked No 1 for both eye tests and glasses in the UK**.
Specsavers is the largest retail provider of home delivery contact lenses in Europe and one of the top two retail suppliers of continuous wear lenses in the world.
Specsavers is now the largest retail dispenser of digital hearing aids in the UK and offers a hearing service from more than 400 locations.
Specsavers supports numerous optical and hearing charities, including Guide Dogs and Hearing for Deaf People. During its three-year support for Diabetes UK it raised more than £250,000 to fund various projects.
Since 2003 more than a quarter of a million glasses have been collected and recycled by Specsavers stores for Vision Aid Overseas, for use in developing countries. Specsavers has raised over £370,000 for the charity since 2006, with almost £250,000 going towards its work in Zambia.
**GfK NOP