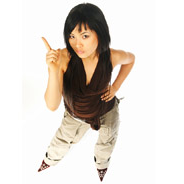 Learn the tips and tricks of the modelling industry
London, UK (PRWEB UK) 2 April 2012
Learn the tips and tricks of the modelling industry. La Mode say lessons are key but once learnt, looks and style can then take over. Going back to school is not an option for some, but teen modelling is all about emerging from the classroom fresh faced and bright eyed, ready to take the modelling world by storm. Unfortunately it's not quite as easy as that. Looks are important, of course, but learning the ropes is just as important too. A model can learn a few things about how to prepare for that all important photo shoot with the experts at http://www.lamodelondon.com as their teachers.
Offering honesty and professionalism, La Mode is in the midst of the modelling scene. They know what is needed, having had years of experience, but instinct is also one of their powerful tools. They certainly know all the inside information, and aren't shy about passing it on to all the aspiring models starting out in the modelling industry.
One of the key pieces of information La mode can impart is that a model needs a professional looking portfolio to get anywhere in this extremely competitive business. Holiday snaps or unprofessionally taken pictures can end a model's career before it has even started. But there are also a few tips and tricks that are needed to be learnt, even before a model arrives for their arranged photo session at La Mode's photographic studio.
Simple advice such as never stay out late the night before a photo shoot and try to get a good night's sleep. It's not rocket science. Tiredness always shows on the face and a model should feel fit and fresh on the day, to be able to give the best that they can for the photographer to do the rest.
Practice posing facial expressions and flick through fashion magazines to learn from the professionals. Get over the embarrassment and make sure there is always good movement in 'The.Walk.' If a model is prepared and practiced, the photo shoot will go to plan. Confidence is so important and a model needs to teach themselves this to succeed.
Have prepared a selection of 5 to 7 outfits, lots of different styles to assist the stylist on hand -casual and classy, sassy and formal; bring a selection of different underwear too. Wear no face products and have clean hair with no hair product. This way it's a blank canvas for the professionals to work their magic with their makeup.
Its little nuggets like this, tiny pieces of achievable tricks to learn, that can set a model apart from the rest. Modelling is a competition and a model needs to have their eye on the finishing line - the aim is to be first at all times. Learn the craft and then looks and style should take a model the rest of the way.
Visit http://www.lamodelondon.com and get the lowdown from the experts.