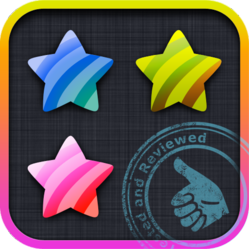 Edinburgh, UK (PRWEB UK) 4 April 2012
For parents and teachers overwhelmed by the thousands of children's apps to choose from, four reviewers of kid's apps have selected their best of the best and put them in a new, free app that makes finding great apps reliable, fast and easy.
The new app, AppStar Picks, offers a wide selection of the best apps for kids and includes storybook apps, educational games, speech pathology and more great apps for toddlers to middle school. And it's free to download here: http://itunes.apple.com/us/app/appstar-picks/id470578124?mt=8
"We reviewers receive emails every day from parents and teachers asking which apps of the thousands we've reviewed are the best. Search for the best apps can be time consuming, so we created the AppStar Picks app so people can quickly find the best," said Nathalie of Fun Educational Apps.
AppStar Picks is a unique app that combines over 250 app reviews from independent review sites and gives parents and teachers a way to browse through categories like art and play, books, education, games and fun, search, share and directly access the App Store for easy downloading.
"As a mom, I have been frustrated by the amount of effort and time that I had to spend on finding good applications for my kids. I finally had enough and decided to do something about it. As a developer and in partnership with a major reviewer we came up with the idea of creating "AppStar Picks" to provide parents like ourselves, a smart tool," said Irina Gorina of AppGrade.
AppStar Picks gives you a chance to discover some of the hidden gems from the AppStore:
"Even with an award winning book app, it's hard to compete with big brands like Dora, Disney and Dr. Seuss, so we're thrilled to have 'Treasure Kai and the Lost Gold of Shark Island' included in the book section" said author, Karen Robertson.
"The app market is highly competitive and we are excited to see our apps such as "My first Tangrams HD" included in such a great app that helps parents getting the best for their kids," said Alexandre Minard from A&R Entertainment.
"AppStar Picks is a fantastic app to easily find the best apps for kids. We are really excited to have "Multiplying Acorns" in the educational section of AppStar Picks," said Tore from Operatio.
"As a parent who is looking for the best educational apps for my own children, I really appreciate a resource like this to help me find top quality apps. We're excited that our award winning speech and language apps have been included!" said Kyle Tomson from Mobile Education Store.
"We created our series Speech with Milo to provide an intuitive and affordable way for parents and therapists to build language skills in a child and we are delighted to have it included in the special need section of AppStar Picks," said Poorani Doonan.
The initial concept and content of AppStar Picks was created by Fun Educational Apps and AppGrade and was soon joined by Digital Storytime, Teachers with Apps and Applicable2U. Each of these sites is run by people who are parents so they know how frustrating finding good apps can be.
It's new and already parents, teachers and developers are raving about it
AppStar Picks can be found in the App Store here http://itunes.apple.com/us/app/appstar-picks/id470578124?mt=8