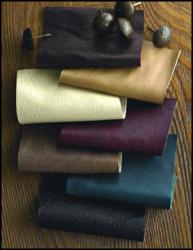 Bonita Springs, FL (PRWEB) April 10, 2012
Most high-quality cowhides are produced in Europe – particularly Italy – and in South America from male cattle raised for beef. The colder European climates result in hides with a finer grain and are applied to better quality furniture. On today's market, the price of top grade upholstery leather hides starts at $120 per square yard and goes up from there. An 84" sofa requires about 22 square yards of leather making the leather alone cost a minimum of $2,500. A "leather" sofa advertised for $1,500? Lots of corners are being cut somewhere!
Before leather hides can be utilized as furniture coverings, they are judged by hand sorting and then subjected to one of three dyeing processes. The highest quality layers of leather are colored using a translucent, pure aniline dye which renders beautiful color variations in the leather. Since this process is used on unfinished, top quality leather, the finished product will have a softer feel. Another coloring process, also used on top grain hides, is a surface finish application, called semi-aniline, which produces a more uniform color look. The third option, very commonly used, is called pigmenting and coats the leather surface uniformly with an opaque color which covers most of the imperfections in the leather.
Unfortunately, in addition to using cheaply constructed frames, costs are frequently cut by using "reconstituted leather" or "bonded leather" which is approximately 17% real leather scraps. These scraps are ground up and mixed with polyurethane or vinyl and backed with latex. For now at least, it is perfectly legal for this concoction to be deceptively advertised as "real leather". This product will neither wear like quality full leather hides nor will it ever develop the suppleness or the patina that we enjoy with true leathers.
A second method that manufacturers use for cost savings is to cover the parts of the furniture that the body actually touches with leather and the sides and back with color matched vinyl. Such a practice is sometimes (but not always) mentioned in very fine print advertising. Over a short time period, the leather and the vinyl will fade at different rates and the sofa will need to be replaced.
Furniture covered with full hides of a high quality will ultimately provide you the look, feel and wear that will serve you well for many years. Don't be fooled by advertising that doesn't explain why a promotional leather piece is so inexpensive. With hides, you usually get what you pay for. There is no such thing as inexpensive, high-quality leather. For more tips on interior furnishings visit Decorating Den Interiors at http://www.GulfCoast.DecoratingDen.com.