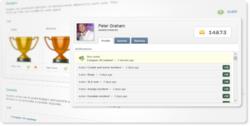 The addition of the Gamification features will drive even more business value, incenting employees to outdo themselves on day-to-day tasks that focus on the delivery of business objectives or desired outcomes
Buenos Aires, AR. San Francisco, CA. (PRWEB) April 03, 2012
InvGate the provider of innovative, next generation, IT Service Management (ITSM) solutions today announced the release of InvGate Service Desk software. Available immediately, InvGate Service Desk simplifies the user experience with its intuitive user interface (UI) and takes IT support to new levels with the inclusion of Gamification. A feature set that leverages rewards and incentives to drive business value.
InvGate Service Desk software improves IT service delivery through intuitive UI design and configurable KPI dashboards reducing training requirements for service desk agents and end users. Ease-of-use translates into faster adoption of the solution for technical staff and end users. The self-service portal reduces service desk workload and IT support costs.
"The IT Help desk market is crowded with tools that deliver a user experience that is not intuitive and require large investments in training to be productive," explains Ariel Gesto, InvGate CEO. "We built InvGate Service Desk from the ground up with the user experience as the key driver. With this innovative UI, Training and Implementation costs are greatly reduced and time to value is increased significantly."
Engagement leads to collaboration
Gamification involves applying game mechanics to business applications to make them more engaging. "The addition of the Gamification features will drive even more business value, incenting employees to outdo themselves on day-to-day tasks that focus on the delivery of business objectives or desired outcomes," says Gesto.
The Gamification features within InvGate Service Desk enable organizations to get more done by developing their own incentives and rewards that deliver measurable business value. Users get a personal game-style profile showing their achievements, their progress on quests and the badges and prizes they have won. This framework of goal setting, quests, and rewards creates engaging experiences and encourages more collaboration within IT.
For more information about InvGate, visit http://www.invgate.com
Follow InvGate on Twitter at: https://twitter.com/invgate
Follow InvGate on Facebook at: https://www.facebook.com/invgate
About InvGate
InvGate Inc. is an innovative software development company specializing in creating next generation IT Service Management (ITSM) solutions that focus on enriching the user experience while delivering powerful functionality to empower the business to drive more value from IT. With customers in over 20 countries that include: government, education, retail and corporations of all sizes. InvGate helps manage over 200,000 assets with InvGate Service Desk™ and InvGate Asset™ to help IT department's drive down costs, improve IT staff performance, increase service levels and deliver real value to the customers they support.