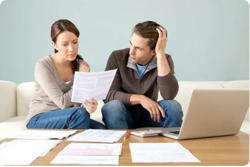 Last year we saw the number of signups for online tax software double in the first two weeks of April from the last two weeks of March
Austin, TX (PRWEB) April 02, 2012
The IRS recently released 2012 tax filing statistics through March 16th and estimates that 77.6 million individual taxpayers have already filed their taxes. This year shows a 4.3% increase over 2011 in the number of people who have filed their tax returns by mid-March. The report also shows an overall increase in both the number of individual returns filed and the overall number of returns filed electronically ("e-filed").
Although 77.6 million individual taxpayers have already filed, the IRS has projected a total of 145.4 million individual tax returns yet to be filed in 2012, a 1.5% increase over 2011. This leaves 67.8 million remaining tax returns to be filed before the April 17th deadline. While some of these individuals may end up filing for an extension, many of them will rush to e-file their returns within the first two weeks of April, as evidenced by an increase in tax software purchases.
"Last year we saw the number of signups for online tax software double in the first two weeks of April from the last two weeks of March," says Tax-Compare.com site manager Koby Wong.
"There is definitely a push for people to finish and submit their tax returns by the deadline and, for those that are filing for an extension, to simply get the process started," Wong continues. "We expect this year's numbers to reflect the IRS' growth projections."
Tax-Compare.com offers reviews and comparison information for the top tax return software products on the market as well as other useful tax resources, such as Tax Checklists for individuals and business owners, a Tax Glossary, and information on Last Minute Tax Filings.
The website features a "What's My Price?" calculator, which matches visitors with the tax products that best fits their needs and lets them compare similar product offerings on price, features, and customer support.
The IRS estimates that 138 million tax returns will be e-filed this year (a 4.3% increase from last year) and that only 101.3 million paper returns will be submitted (down 3.1% from last year and continuing to decrease). The IRS also predicts a 1.2% annual growth rate for individual tax returns, resulting in 156.4 million individual tax returns filed by tax calendar year 2018.
"As more people are starting to e-file, online tax software is becoming an indispensable tool for the majority of taxpayers," says Wong. "It's important to understand the differences among the top services and to choose a product that offers the guidance, guarantees, and protections that you'll need when preparing your taxes yourself."
About Tax-Compare.com
Tax-Compare.com was created to help people choose the best and lowest cost online tax software product for their needs. The site helps individuals and business owners fully understand the differences in price, ease of use, tax support, and other relevant data, so they can make an informed choice and get their refunds as soon as possible.