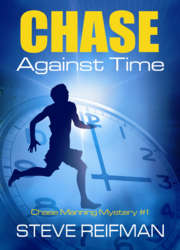 Edgy, suspenseful, and fun...

- Brad Turner, Producer and Director, 24
Dallas, TX (PRWEB) April 10, 2012
New children's mystery book series "Chase Manning Mystery" (Brown Books Publishing Group), by National Board Certified Teacher Steve Reifman of Santa Monica, CA, introduces young readers to fifth grade detective Chase Manning.
In the first installment of the series, "Chase Against Time," a recently donated, handcrafted cello goes missing on the day of the annual Apple Valley Elementary School fund-raising dinner to save the school's award-winning music program.
The school principal charges Chase Manning, a fifth grader who has always dreamed of playing in the Sixth Grade Honors Orchestra, with finding the cello by three o'clock.
Each hour of the school day involves surprising and suspenseful plot turns as Chase pursues the elusive cello and gets closer to solving the mystery. This single day, real time thriller truly is a chase against time.
Refreshing and full of cliff-hangers, "'Chase Against Time' is edgy, suspenseful, and fun," says Brad Turner, director and producer of the television series "24."
Adds young mystery reader Julio Escarce, "'Chase Against Time' is a page-turner that young readers will find impossible to put down."
"Chase Against Time" will change the way you view the schoolyard. So what are you waiting for? Pick up a copy today and be one of the first to find out if Chase can solve the mystery!
"Full of mystery and action . . . Chase Manning has it all," says Lee Edward Fodï, author of the "Chronicles of Kendra Kandlestarbook" series. "Fans of the 'Encyclopedia Brown' series are sure to love Chase Manning. "
Be on the lookout for the next Chase Manning Mystery, "Chase for Home"—a sure winner!
About the author:
Steve Reifman is a National Board Certified Teacher, author, and speaker living in Santa Monica, California. "Chase Against Time" is the first installment in the Chase Manning Mystery Series. Reifman has also written five resource books for teachers and parents, including "Changing Kids' Lives One Quote at a Time" and "Eight Essentials for Empowered Teaching and Learning, K-8." You can find his weekly blog posts, tips, and other valuable resources and strategies for teaching the whole child at http://www.stevereifman.com. Follow Steve on Twitter at http://www.twitter.com/#!/stevereifman.