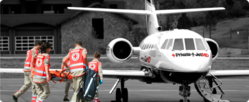 people want to receive medical care from a facility and staff with high standards that they can trust, both at home and while traveling
(PRWEB) April 03, 2012
A recent article written by Elizabeth Ody and published Mar 16, 2012 entitled: "Wealthy Families Skip Waiting Rooms with Concierge Medical Plans" described the growing new trend for Concierge Medical Services as follows:
"…Doctors on-call day or night. Medical care while traveling outside the U.S. Emergency-room grade equipment, modeled on gear used in the White House, installed in the client's home. Well-heeled executives and their families increasingly are paying tens of thousands of dollars a year for high-end medical services that aren't covered by insurance. 'Wealthy people want to have a little exclusivity and want better service than they can get at their normal health-care facility, and they're willing to pay for it,' said Rick Flynn, principal and head of the Family Office Group with Rothstein Kass, a Roseland, New Jersey-based accounting and consulting firm. Such white-glove attention, known as concierge care, doesn't come cheap. It may cost as much as $30,000 a year out- of-pocket for unfettered access to physicians who limit the number of patients they take on. An emergency room in one's home designed to handle a family's ailments can cost as much as $1 million. About 55 percent of single-family offices, which generally manage the finances of one wealthy family, used a concierge health-care provider in 2011, compared with about 36 percent in 2009, according to a study released in December by Rothstein Kass. The top reasons were managing severe medical conditions and gaining access to quality physicians and medical institutions, the study found…"
Such concierge plans are suitable for clients while at home, but the situation changes significantly while traveling far from home. When traveling within the United States, there obviously are no language barriers, yet getting the best possible medical care at a facility we may not be familiar with, presents some risks, as the range of services and the level of expertise for the medical staff delivering those is unknown and there is little time during an emergency to find out more details.
While traveling in foreign countries, the situation becomes far more complex due to the uncertainty of the reputation and specialized medical expertise available at a local medical facility that is further complicated by a possible language barrier. So, instead of being able to focus on the optimal recovery while away from the comforts of home and a close support network, one has to worry about the quality of medical care and its implications for its long term effects on one's health.
Policies exist to cover such risks and uncertainties, some tied to particular trips, others for trips taken during specific time periods. The newly announced coverage to minimize travel emergency risks is now offered by Private Jet MD as an Annual membership. The Private Jet MD Membership covers all of the following risks:
1. Emergency Medical evacuation to the nearest Western Medical Standards approved facility, wherever that may be located
2. Medically supervised repatriation home, following emergency treatment
3. Transportation back home for any accompanied dependent minors following a medical emergency
4. Compassionate visit by a relative or friend if hospitalized over a week for a medical emergency
5. Ongoing expert medical case management and review by emergency medical experts
6. Presciption refill and eyeglass replacement assistance
7. Repatriation of mortal remains
8. Pre-trip health, medical and personal safety information assistance
9. Travel emergency legal, document and communication assistance
10. Personal safety assistance and evacuation in case of imminent dangers
11. And more services and assistance
All medical services are designed and service delivery supervised by the company's own Travel Emergency Expert chief consultant, Joe E. Di Corpo, who has personally handled over 75 emergency medical evacuations and is a practicing expert trauma anesthesiologist. Emergency medical treatments are closely supervised by regional experts who report back to the Chief Medical Consultant.
Memberships are available for individuals or for families up to 5 members, as well as large employee groups based on specifically designed and priced contracts by contacting Mr. Todd Rome, the CEO of Private Jet MD.
The Company's website is at http://www.PrivateJetMD.com and expert consultants are available by phone at 855-756-3911.
Private Jet MD announced its first service offerings last November.
A brief video explaining the benefits of the membership are available here.