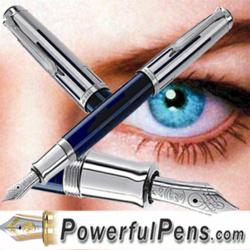 Pelikan Pens Releases Souveran 625 Fountain Pen
New York, NY (PRWEB) April 09, 2012
Pelikan pens has set a new standard in craftsmanship with the Souveran 625, now made available through PowerfulPens.com. The Classic design sporting detail work in .925 sterling silver as well as the rhodanized 18-carat gold nibs makes the Souveran 625 a fountain pen collectors' most functional addition to their selection of fine writing instruments. The nib and detailing of the Pelikan Souveran 625 are features that have been attributed to the steady and even rising value of Pelikan fountain pens.
William Margita of PowerfulPens.com, a leading online authority for pen collectors, says the dynamic guilloche detail of the Pelikan Souveran 625 brings out the quality and the feel of this masterpiece. Pelikan fountain pens have taken fountain pen design innovation and craftsmanship to a new level with the Souveran 625.maintaining their level of excellence and engineering to include balance. Margita adds that most collectible pens struggle to maintain their balance through the design process making them difficult to actually write with, however the Sourveran 625 embodies both design and functionality.
The Pelikan Souveran 625 has a classic look and feel with streamlined detailed work to add modernistic attributes without losing elegance or altering the aura of Pelikan standards. As with all high-grade resin casing, the unique and transparent appearance of the fountain pen casing compliments the silver-plated clip and rings with options of a rich dark-blue or a high-grade deep dark red casing. Both feature the plunger style for an enhanced writing experience to include the rhodanized 18-carat/750 gold nib. Margita notes the barrel has a smooth finish that is simple in it's elegant presentation while keeping that grand-old-style essence of a quality fountain pen with superior craftsmanship.
Margita also notes the use of precious metals such as gold and silver which has been a cornerstone to increased value in most fountain pen lines over the last few years. With financial markets around the world echoing the effects of politics, conflict and financial changes on a daily basis, gold and silver bullion has maintained and exceeded expectations in profitability. That value can be seen carrying over to the world of high-quality fountain pens. Pen collectors can make inquiries for price and availablity by calling 1-888-960-6665 or seeing current fountain pen selections at http://www.PowerfulPens.com